The Barn Theatre, Southwick Community Centre.
September 14, 15, 16, 17 [+Mat] 1988.
The Liver Birds
by Carla Lane  &  John Chapman
---
1988 BHAC Full Length Drama Competition
– Best Actress – Trudy Nash
---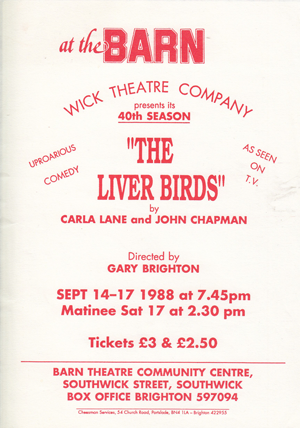 Directed by
Gary Brighton
Cast
Karen Butcher – Sandra Hutchinson
Philip O'Brien – Paul
Trudy Nash – Beryl Hennessey
George Illman – Desmond Duval
Joan Bearman – Mrs. Hennessey
Judith Atkinson – Mrs. Hutchinson
Vic Gough – The Vicar
Peter Joyce – Robert
David Le Page – Mr. Hutchinson
Production Crew
Stage Manager – Dave Collis
Assistant – Jill Redman
Assistant – Sue Whittaker
Lighting & Sound – Barrie Bowen
Lighting & Sound – Frances Thorne
Lighting & Sound – Jamie Boath
Set Design & Construction – Ralph Dawes
Set Design & Construction – Dave Collis
Set Design & Construction – Dave Comber
Set Design & Construction – Mark Flower
Set Design & Construction – Brian Box
Set Design & Construction – Mike Davy
Scenery & Decor – Margaret Davy
Scenery & Decor – Sue Whittaker
Scenery & Decor – Frances Thorne
Scenery & Decor – Margaret Faggetter
Props – Sue Whittaker
Props – Margaret Davy
Continuity – Philippa Downs
Front of House Manager – Win Heselden
Foyer Flowers – Rosemary Biggs
Box Office – Jill Redman
Programme Note #1: The Liver Birds
GB wrote: "For the start of our 40th Season, The Liver Birds is an excellent choice. An amusing play bordering on farce, well known to T.V. viewers as a popular series.
John Chapman has sent his best wishes together with the original 1974 Play Poster and Mollie Sugden has kindly loaned us photographs from the Blackpool production along with her good wishes.
This is my first time as Director for Wick Theatre company and I should like to thank all the cast for their hard work and all others who have assisted in making this production possible.
May you all have a 'fun' evening and please keep supporting the 'BARN' Productions.
Thank you"
Programme Note #2: The Liver Birds
" WICK THEATRE COMPANY has reached its 40th year and now has a membership of over 100. The expertise developed over the years and the many successes are matters of which to be justly proud and as we celebrate our 40th Season it seems appropriate to indulge in a nostalgic recall of our early days.
Wick Beginning
In 1948 a group of young people attended a lecture on the theatre given at Fishersgate by Mrs. Elizabeth Penney. The interest created was so great that a company was formed called the Unity Players with 'Molly' Penney as President. After 18 months of training only one dramatic work was performed before the company changed its name to the Young Wick Players. The Young Wick met weekly for many years at the home of its foundress in Church Lane, Southwick and their activities alternated between their two homes – the 'Penneys' and the Community Centre. The Barn Theatre was opened in 1951 and the group performed at the opening and have presented their plays there ever since. Of the original members only Ralph and Betty Dawes are still active in the company which again changed its name to the Wick Theatre Company during the 1962/3 season, when it was becoming evident the description 'young' was hardly appropriate when the age range stretched from 13 – 50.
Early days – Wick technical
In the fifties sets were made and stored in Penney's yard. Coal dust was a problem but we got by. Sunday mornings painting the set in the yard were great occasions, followed by tea and wads in the local cafe. In 1960 John Perrett was making 'flats' in his own garage. Captain Carvallo had a magnificent set and this led to a whole series of settings of the highest quality. By 1967 Vincent Joyce was designing and constructing sets for such plays as The Crucible and The Poker Session. His most memorable set was for The Night of the Iguana, but by this time we had acquired the workshop attached to the Community Centre which we share with Southwick Opera.
Not only did our expertise in settings improve but also the quality of the wardrobe and properties, particularly for costume plays. This was due in no small part to Bess Blagden who directed such memorable plays as The Queen and the Welshman and The Queen and the Rebels and made properties of authentic style to add to the effect.
Music and the Widening Range
As we became more experienced in drama so we felt competent to spread our wings and try the wider range of musical plays. Having presented revues under Ian Elliott's direction in 1962 and 1963 we finally launched ourselves into the musical field in 1970 with George Porter's production of Oh! What a Lovely War and there-after successfully presented Salad Days, The Boy Friend directed by Barrie Bowen and My Fair Lady directed by Jean Porter.
These musicals have been a great boost to the company and are immensely popular with Wick and the public alike.
Encouragement of New Members
The Company has always recognised the need of growth through handing down of practical experience. Outside of dramatic productions Wick have clung to a tradition of meeting on Monday evenings. If a production wasn't in rehearsal these meetings would follow the lines of lectures, discussions on make-up, movement, mime, lighting, scenery and all the hundred and one paraphernalia connected with stage craft. Over the years social activities have been organised, visits to theatres, beach parties, barbecues, dinners and dances."
The journey continued in Night Watch's programme below. "
---