The Barn Theatre, Southwick Community Centre.
February 11, 12, 13 & 14, 1987.
---
The Anniversary
by Bill Macilwraith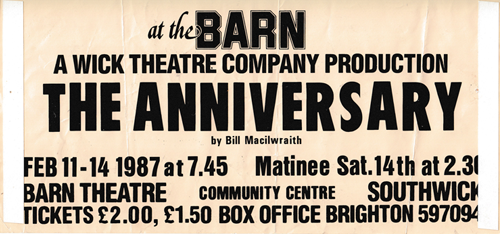 Directed by
Margaret Ockenden
Cast
Julian Rose – Tom
Trudy Nash – Shirley
David Peaty – Henry
Ian Bishop – Terry
Judith Atkinson – Karen
Paddy Hartley – Mum
Production Crew
Production Manager – Sue Whittaker
Stage Manager – Mark Flower
Stage Manager – Jenny Law
Assistant – Joan Bearman
Properties – Margaret Davy
Lighting – Frank Hurrell
Lighting – Frances Thorne
Sound – Barrie Bowen
Decor – Margaret Faggetter
Set Design & Construction – Ralph Dawes
Set Design & Construction – Jill Hutchinson
Set Design & Construction – Mark Flower
Set Design & Construction – Dave Comber
Set Design & Construction – Dave Collis
Set Design & Construction – Brian Box
Set Design & Construction – Mike Davy
Front of House Manager – Win Heselden
Box Office – Jill Redman
Programme Note #1: The Anniversary
MO wrote; "I saw the original production of The Anniversary, and was shocked by it. Twenty years later, it still has the power to dismay, but it is an optimistic play that offers hope for the future. It also has a delightful sense of the ridiculous. Fortunately, I had a superb cast who seized upon the play's possibilities and a backstage crew who appreciated the importance of setting, lighting and sound.
I hope you enjoy The Anniversary!"
Programme Note #2: The Anniversary
Julian Rose: Julian is a reporter with BBC Radio Sussex. Besides working for News and Features programmes, he has assisted in the production of radio drama. This is his first appearance for 'Wick' and we look forward to seeing him many times in the future.
Trudy Nash: Those of you who saw our Christmas production of Pinocchio may not have realised that the charming Columbine was Trudy. In our first play of the season, Pygmalion, Trudy played Clara. She has also appeared in productions for the Brighton and Hove Operatic Society and the Gemini Players. Trudy is at present training to be a teacher.
David Peaty: David's first appearance for 'Wick' was as 'The little monk' in Becket. He has taken many parts, notably in The Marquise and Trespass. Although a trained Drama Teacher, David is now undertaking Social Work.
Ian Bishop: For those of you who saw the Southwick Players production of Babes in the Wood yes – it's Sid Squeak! Ian is an experienced actor in both straight drama and comedy. He played Tony in the 'Wick's' award winning Abigail's Party. In real life Ian is a travel agent.
Judith Atkinson: Judith is a talented newcomer to 'Wick'. She appeared as Patti in Season's Greetings and is a 'natural' on stage. She hopes that when she is finished with Karen, she will be cast in a part that has no connection with ladies who have large families!
Paddy Hartley: A trained actress, Paddy has spent much of her life in Rome, where she acted with the Goldoni Theatre. Her favourite parts have been George in The Killing of Sister George and Eleanor in The Lion in Winter. She also appeared in Italian T.V. Commercials. We look forward to seeing more of her work with the Wick Theatre Company.
---