The Barn Theatre, Southwick Community Centre.
May 22, 23, 24, 25 & 26, 1984.
---
And So To Bed
by J. B. Fagan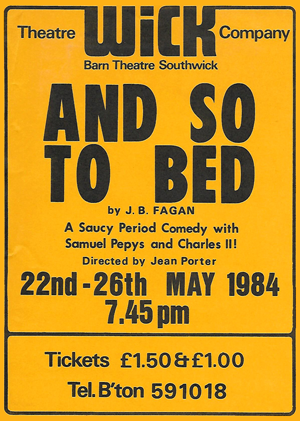 Directed by
Jean Porter
Cast
Clare Readman – Sue
Christopher Naylor – Boy to Pepys
Robin Lee – Samuel Pepys
Joan Bearman – Doll
Hilary Wiltshire – Mrs. Knight
Mark Flower – Watchman
Sally Bacon – Julia
David Davison – Pelling
Neil Shepherd – Pelham Humfrey
Martin Cramp – William Caesar
Miranda Bowen – Mrs. Pepys
Pat Moss – Mrs. Pierce
Margaret Faggetter – Mrs. Knepp
Gillian Robertson – Lettice
Keith Denyer – Prodgers
David Creedon – Charles ll
Production Crew
Producer – George Porter
Composer of Original Music – Patrick Johnson
Musician – Margaret Ockenden
Musician – Lara Bowen
Musician – Patrick Johnson
Stage Manager – Frances Thorne
A.S.M. – Margaret Davy
A.S.M. – Susan Whittaker
A.S.M. – Daphne Thornton
A.S.M. – Sheila Wright
A.S.M. – David Comber
A.S.M. – Brian Box
A.S.M. – Mark Flower
Lighting Design – Frank Hurrell
Sound Effects – Barrie Bowen
Stage Design – Ralph Dawes
Set Construction – Ralph Dawes
Set Construction – Ron Cheesman
Set Construction – Workshop Team
Costumes Designed & Made – Pat Moss
Wigs & Hairstyles – Frances Moulton
Wardrobe – Jill Redman
Make-up – Betty Dawes, Ralph Dawes
Front of House – George Penney
Box Office – Nicholas Thorne
Foyer Decor – Muriel Stanford
Programme Note #1: And So To Bed
JP wrote "Pepys Diary is one of the wonders of the English literature. This delightful play gives us one day in 1669 as Samuel Pepys, patriotic Englishman, secretary to the Navy, tireless worker, lover of music and alas, lover of beautiful women – might have spent it.
Here we have a completely rounded, very human character, very aware of the weakness of the State, his King and himself. The women are charming and the episode with Charles ll is full of colour, humour and captures the flavour of the 'merry Monarch'.
You will not fail to be charmed by Patrick Johnson's songs, composed specifically for this play and by Pat Moss's colourful costumes."
Programme Note #2: And So To Bed
"About this play; In this production we welcome some talented young newcomers to the company – Clare Readman, Gillian Robertson, Christopher Naylor, David Davison and Martin Cramp. The strength of any society in the long term lies with the young up and coming members and we are always happy when young people join us.
Robin Lee, after taking several character parts with the company is playing Samuel Pepys, his first leading rôle with Wick. As Samuel Pepys is one of his heroes, he has entered into the part with great enthusiasm.
We are also pleased that Hilary Wiltshire is back on the Barn Stage in a major rôle. Many of you may remember her Desdemona in Othello, in 1975.
And David Creedon makes one of his all too rare appearances as Charles ll; David last acted with Wick in 1980 as Tony Lumkin in She Stoops to Conquer.
Samuel Pepys was a musician and our cast have been enjoying themselves rehearsing Patrick Johnson's music with the help of Margaret Ockenden and Lara Bowen, with their flageolets and recorders. "