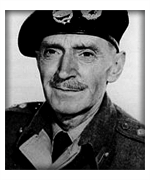 Meryick Edward Clifton-James
Born: 00 . 04 . 1898
First Appearance: January 1954
Curtain Call: 05 . 05 . 1963
M. E. Clifton James – " An Actor and Soldier, notable for his resemblance to Montgomery…"
Wikipedia – has Clifton-James' death date incorrect
---
01/1954 – Summer in December – Director
---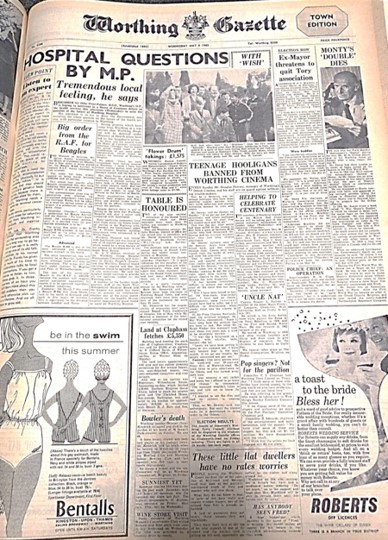 Worthing Gazette – Wednesday May 8 . The article "Monty's 'Double' Dies reads :
"THE man who was Field Montgomery's "double" during the war, Mr M E Clifton-James died at his Worthing home on Sunday after a long illness. He was 65.
Mr. James had chest trouble as a result of being gassed on the Somme in the First World War.
It was in 1944 that M.I.5 noticed his extraordinary likeness to Monty. As Mr. James was an actor by profession he was ideally suited to play the part of Monty's "double" which so convincingly fooled the Germans.
He was disguised as Monty, complete with beret, and appeared at big military parades taking the salute in Gibraltar and Algiers while Monty was in England helping prepare for the D-Day offensive.
In 1954 Mr. James wrote a book called "I Was Monty's Double," in which he related in detail how the major hoax of the Germans was prepared. He also appeared on television to tell his story and was interviewed on radio in "In Town Tonight" and other programmes. There was also a film version in which he starred.
So much interest did his remarkable story arouse that he lectured to various organisations in Worthing and other towns on his experiences. In 1959 a tour was arranged in Canada and the United States.
When he addressed Littlehampton Townswomen's Guild on one occasion he said: "Of course I am not allowed to reveal all the secrets to you. Certain parts of the job will die with me."
During the First World War, Mr. James lost a finger on his right hand. So that at the time of the hoax he would be able to make Monty's distinctive salute without suspicion he was taken to Guy's Hospital where a false finger was specially constructed and fitted.
Mr. James was an Australian, born in Perth. After the First World War he became an actor at the Grand Theatre Brighton and later joined the newly-founded Northampton Repertory Company. "
[the copy article comes from the archive of the Worthing Gazette held by
West Sussex County Council Library Service.
]