In Memory of
Mark Flower
24. 02. 1960 – 31. 12. 2018
---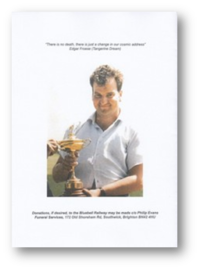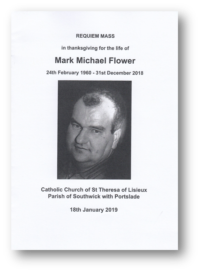 Rosemary Bouchy – Wick's Newsletter editor writes;
One of Mark's last wishes was for family and friends attending his funeral to wear bright colours. In the event there weren't many splashes of colour among the congregation at the lovely service in St. Theresa's church, Southwick. But in the waiting room at Worthing Crematorium, there was a company of Morris dancers in full regalia, clearly waiting to bid farewell to one of their own. So one colourful scene alongside our own rather muted gathering was present to cheer Mark's spirit on its
way.
The floral tribute laid on the coffin was beautifully arranged by sister-in-law Sharon and her daughter Katy, composed for the most part of winter blooms and berries picked in their gardens. It was accompanied by a collection of memorabilia including Mark's camera, a Swiss cow bell and a sports cup won in his schooldays.
Mark Flower was born in Southwick and received some of his education at the St. Mary Magdalene School in Brighton where his father was headmaster. He worked for the council in the care of sports grounds and parks – he once told me the number of rose bushes he could prune in an hour. I can't recall exactly how many but it was a lot. He loved his garden when he acquired his own bungalow and also helped care for the garden at the Community Centre. Mark's gardening tips were a feature of the newsletter at one time.
He was keen on sport and followed it avidly as well as taking part – cricket was one favourite, he was a fast bowler, and football another… thus the choice of hymns Abide with Me and Jerusalem for the Requiem Mass.
Visits to France when helping to organise Adur's twinning with the town of Riom introduced him to the game of pétanque which he also much enjoyed.
When a very high tide driven by a winter gale combined to wash away a large section of breakwater guarding the end of our harbour side garden, Mark very kindly came along armed with his formidable sledge hammer to help us rebuild the lost wall. This survived intact for many years, even resisting a massive tidal surge, until removed recently for new sea defences to be built.
Mark's best loved country was Switzerland, reflecting his Swiss/German ancestry, and he travelled there many times, especially to Interlaken, his favourite town. He also took trips to other parts of the Continent, always driving himself. I remember that he was very fond of photography and liked to give presentations of his travel pictures at the Centre. Trains were another great interest, particularly the Bluebell Line, with
which he was much involved.
His parents were very important to him, and Mark was devastated when they died within a few days of each other. He asked me to write what he knew of their history, and through this I learned that his father fought in WW2, including in the Burmese jungles and was awarded the Burma Star, in addition to the Campaign Medal. These were among Mark's most treasured possessions. Sorry that he didn't learn even more about his parents in their lifetime Mark warned: "Don't ever put off asking questions – you may suddenly find it is too late."
His involvement with Wick was extensive. Mark was part of the workshop team and listed as back stage crew in a great many productions. Not content with that, he had walk-on parts in several, including Dracula (1996). [I was playing a schizophrenic nurse. In one scene I had to sit on the edge of the stage and he was kind enough to help me to my feet afterwards.] The last of these was as one of the U-boat crew in Dad's Army (2006), his favourite TV programme.
He served as secretary for many years, helped with the newsletter for a time and was part of the front of house and box office teams.
Mark had very decided opinions on just about everything, and was fond of writing to the local paper and our MP. He would also write letters to the Wick News, and was less than pleased if I felt that they were not quite suitable for inclusion. But although Mark could be difficult and contentious at times, he was also very kind.
Sadly his last years were dogged by ill-health, although he managed to attend quite a few Wick productions, always sitting in the front row, and usually sending me his opinion of them afterwards. He hosted a few coffee evenings, too and collected stamps and bottle tops from us all for various charities. What shall we do with all those stamps now?
Other Members' Memories
Clive Townsend writes: "I have been a member of the Wick almost from its earliest days although I have not been active in attending its productions very often since its 25th anniversary due to ill health, age and the distance involved from where I live on the borders of Norfolk. As a result I do not know more than two or three current members. I do remember a member named Mark with whom I had a very long and friendly conversation on one of my attendances. Although I only met him the once I feel quite upset at his death. He was such a kind and friendly person when we chatted and I have often thought of him."
Margaret Ockenden, a former Wick member who once lived next door to the Flower family in Croft Road, and was instrumental in Mark joining the Company, writes: "I remember how excited Mark was when he moved into his own bungalow. I was invited to a dinner party together with the late Frances and Brian Moulton and two other Wick members. Mark went to a lot of trouble and served us with a very acceptable meal."