The Barn Theatre, Southwick Community Centre.
April 28 – May 1, 2, 3, 4 & 5, 1973.
---
The Boy Friend
by Sandy Wilson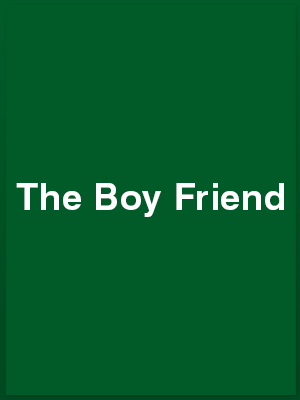 Directed by
Barrie Bowen & Frances Moulton
Cast
Monica Joyce – Hortense
Miranda Bowen – Maisie [Pupil at Mme. Dubonnet's Finishing School]
Ann Baker – Dulcie [Pupil at Mme. Dubonnet's Finishing School]
Moyra Martin – Fay [Pupil at Mme. Dubonnet's Finishing School]
Helena Drzyzga – Nancy [Pupil at Mme. Dubonnet's Finishing School]
Sally Bacon – Polly Browne
Mike Donkin – Marcel
Neil Shepherd – Pierre
Roy Roberts – Alphonse
Anna Welsh – Madame Dubonnet
Roger Job – Bobby van Husen
Roger Stott – Percival Browne
David Creedon – Tony
Douglas Tucker – Lord Brockhurst
Audrey Laye – Lady Brockhurst
Richard Porter – Waiter
Ronald Bolt – Pepe [speciality dancer]
Dinkie Stapleton – Lolita [speciality dancer]
Jane Durance, Jane Smith, Ann Terry – Girls and Guests
Production Crew
Musical Director – Eric Thompson
Design – Richard Porter
Choreography – Miranda Bowen
Tango (arranged by) – Dinkie Stapleton
Pianos – Eric Thompson, Lillian Chatfield
Bass – Stuart Bartholomew
Percussion – David Green
Stage Manager – Brian Moulton
Assistant Stage Manager – Ethel Barrs
Assistant Stage Manager – Valerie Bingham
Production Secretary – Sheila Wright
Lighting – Frank Hurrell
Costumes – Pat Moss
Wardrobe – Mary Payne
Wardrobe – Carol Brand
Millinery – Nini del Rue
Millinery – Edna Manwaring
Properties – Margaret Davy
Set Construction – Alan Upton
Set Construction – Bill Mack
Set Construction – George Laye
Scenic Painting & Decor – Richard Porter
Scenic Painting & Decor – John Davidson
Programme Note #1:
BB and FM wrote: "Tonight's musical play was inspired by the success of our production of Salad Days last season. It may have been a sentimental inspiration that as a company we wished to stage yet another musical. As producers, The Boy Friend has always been a play with which we have both wanted to be associated in some way.
Four years ago we nearly missed such an opportunity when our friends the Southwick Operatic Society hoped to present it. Permission was denied them by a professional revival but we hope that they, and you, will enjoy this presentation as much as we have rehearsing it."
Programme Note #2:
"The general feeling in WICK is that musical plays are great fun, although hard work. The Boy Friend will be our third full length production with music and it is interesting to reflect on our experience in the song and dance field. After all we are an amateur dramatic company. How did we get around to the idea that we could sing?
Well, of course, you can't divorce music from drama. It is part of the roots of drama as we know it – the chorus of Greek plays – Shakespeare – Feste's songs in Twelfth Night for instance – the Masques of the Middle Ages and in modern times the development of dance drama with Hair, Godspell and so on ….
We acquired a taste for music by putting on two sophisticated revues some ten years ago – Noc Turne and Infra Dig – all good fun but not integrated stuff – just songs and sketches. Next we tried The Hollow Crown on one lovely summer evening when Sheila O'Farrell and Christopher Martin sang some traditional airs. Several years passed be fore we decided to put on Oh! What A Lovely War. This play was hard work but very rewarding. We did an excerpt for the Southwick Festival and the following year launched into the full length production with our dear friend the late Peggy King a musical director. It was a great success and whetted our appetites for more. After the passing of another year, Barrie Bowen decide to offer Salad Days as a production. This was presented in the spring of 1972 and the public loved it. Now here we are again. It is not that we aspire to operatic singing. The voices you can judge yourself, but it is the verve and the team work which we hope you will find is putting the song and dance over.
Music is part of drama. We use it to set atmosphere. Sometimes the play itself is music. We recently performed Pinter's The Collection at the Southwick Festival. Don't you agree that Pinter uses words and silence as a musical score? It is all about communication – sounds and silence.
Those of you who saw our last show Barefoot in the Park will know how polished that production was and how much enjoyed – we hope The Boy Friend keeps you walking on tip toe with a song in your heart."