The Barn Theatre, Southwick Community Centre.
September 22, 23, 24, 25 & 26, 1970.
---
Oh! What a Lovely War
by Joan Littlewood's Theatre Workshop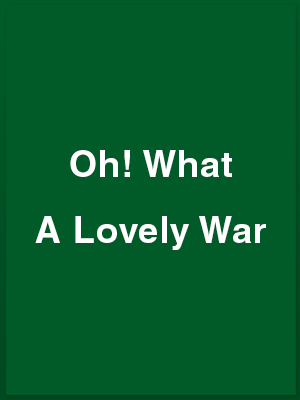 Directed by
George Porter
Cast
Pierrots all:
Barbara Moulton – ('at the last minute')
[see Frank Selby's review #1]
Production Crew
Stage Manager – Ralph Dawes
ASM – Sally Bacon
Properties – Margaret Davy
Properties – Frances Thorne
Sound Effects – Terry Gibbs
Effects – Richard Porter
Dance Routines – Miranda Bowen
Lighting – Frank Hurrell
Costumes – Pat Moss
Costumes – Carol Brand
Musical Accompanist Piano – Peggy King
Musical Accompanist Drums – Mick Urry
Programme Note #1: Oh! What a Lovely War
GP wrote: "I am anti-war! Who isn't and in their right mind? I am not anti-Haig or any other leader. I am just pro the common soldier and this makes me slightly anti- the establishment.
In the Great War the nightmare of life in the trenches with armies locked in frontal struggle, numbed the bodies of the foot soldier but, far worse, numbed the minds of the leaders, who could see no way out of the dilemma except by the weight of men, the expendable commodity! For the glory of their countries [so they thought] men endured hell, because to give in was unthinkable: they sang and they joked, some parodied and some survived.
Out of it all, even today, we feel the poignancy of the situation, the self- sacrifice, the nobility – and the waste.
When I was a child the entire school formed up in the playground each November 11th and on the silence at two minutes past eleven would fall the words "they shall grow not old as we that are left to grow old …"
I never saw the blood red poppies in the Norfolk barley fields of those days without thinking of 'the fallen'. On the heathland near my home the rifle butts were a fascination. Whenever the red flags were flying I used to watch the local territorials firing over the bracken and heather at the timber-clad earth banks two or three hundred yards away. [We used to hunt for cartridges and spent bullets.] These were the brave men who survived; the defenders of our world.
I have a sort of nostalgic involvement in the 1st World War even though I carried arms in the second. No generation has ever had to face up to the horrors of human slaughter as in 1914-1918 and yet they made tolerable the intolerable by laughing at it. They had the ability to burst out singing. Even the parodied hymns have a religion of their own – they show the indomitable spirit of man.
I hope you will leave this show with the old songs on your lips and a feeling deep down that the experience has been worthwhile. What you have seen is a team effort, a true theatre workshop; but I would like to acknowledge the valuable help given to the company on the musical side by Peggy King and Pat Johnson."
Programme Note #2: Oh! What a Lovely War
In tonight's production you will see BRIAN MOULTON tackling a number of parts with relish, a hallmark of this long-standing member. His introduction to the Wick, some 14 years ago, was interesting, because his wife Frances at that time was a keen member, and Brian decided to see what was going on, and has never looked back. He has grown in stature as an actor and has appeared in many leading parts. His favourite was as the father in Anna Christie for which he was named actor of the year in the local press. He still thinks, however, that Wick have never been better than in A Man for all Seasons.
This year, for the first time, he has been elected to the committee as Production Manager. This post has been made vacant due to the fact that Terry Mase has a job that takes him away form this area. We feel sure that Brian's drive and energy will be an asset on committee.
In private life he is a director of his own company dealing with metal pressings, and he lives with his family in Shoreham. All his family have appeared in Wick productions, and tonight wife Frances and son Steven both join him whilst daughter Barbara takes a rest. [web ed; apparently not! Barbara stepped in for a departing Hilary Goldsmith]
In this production we mark another first -the introduction of SHEILA DEASEY on the stage. She has been with the company for three years and for the last two has filled the exacting post of Treasurer. This is not the easiest of tasks, and with out production bills increasing due to the fact that we are endeavouring to present better quality, her job becomes more of a headache. She is another member with a family tradition in Wick as Anthony, her brother is a well-established young actor, and a younger sister, Anne, appeared in School for Scandal. As a member of the audience this last play was one she enjoyed most of all and would dearly love to see The Rivals or The Lark put on.
Her first love of the theatre came at school in Worthing, but with only small parts. She works in a bank and lives in Southwick, and let's hope this is the first of many appearances.
---