The Barn Theatre, Southwick Community Centre.
April 8, 9 & 10, 1965.
---
Five Finger Exercise
by Peter Shaffer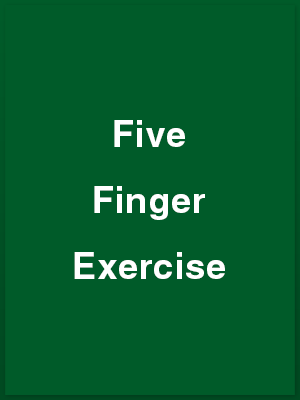 Directed by
Clodagh O'Farrell
Cast
Betty Elliott – Louise Harrington
Ray Hopper – Clive Harrington
John Perrett – Stanley Harrington
Robert del Quiaro – Walter Langer
Isobel Pilcher – Pamela Harrington
Production Crew
Stage Manager – Frances Thorne
ASM – Jean Porter
Lighting – Frank Hurrell
Wardrobe – Morfydd Bowen
Wardrobe – Margaret Perrett
Effects – Terry Mase
Set Design – John Perrett
Front of House Manager – Barrie Bowen
Programme Note: Five Finger Exercise
CO'F. wrote: "I have produced this play because I am attracted by its truth. It frightens with its truth and reality. Five Finger Exercise is about people we know. People we should try to understand.
Technically it is a very finely made piece of theatre, offering superb acting opportunities for those playing it and achieving exactly what the title suggests. It creates an exercise for five fingers or characters, each complete in itself but each using the others to perform the finished exercise.
Shaffer has written nothing superfluous into this play. There is a reason and a purpose for every action, every word. Five Finger Exercise with its economical subtlety, emotional power and clearly related truth is a challenge to us all."
---