The Barn Theatre, Southwick Community Centre.
November 3, 4 & 5, 1960.
---
Don't Listen Ladies
by Sacha Guitry  (adapted by Stephen Powys & Guy Bolton)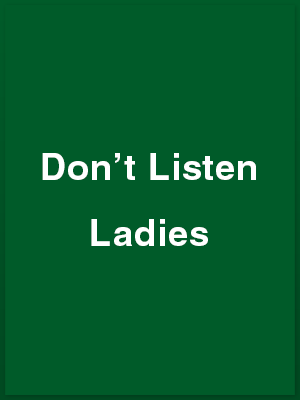 Directed by
Bess Blagden
Cast
Patrick Johnson – Daniel Bachelet [antique dealer]
Patricia Bennett – Henriette [a maid]
Jean Porter – Madeleine [Daniel's second wife]
Ralph Dawes – Baron De Charancay
Raymond Hopper – Balndinet [Daniel's assistant]
Betty Elliott – Julie Bille-en-Bois [an ex-actress]
Betty Dawes – Valentine [Daniel's first wife]
Nicholas Sweet – A Porter
Adrian Hedges – Michel Aubrion
Production Crew
Associate Producer – Ross Workman
Stage Manager – Ian Elliott
ASMs – Frances Davy
ASMs – Frances Moulton
Set Design & Construction – Barrie Bowen
Lighting – Frank Hurrell
Sound Effects – John Chatfield
Wardrobe – Sheelagh O'Farrell
Properties – Valerie Collard
Properties – Maureen Hammond
Assistant to the SM – Clodagh O'Farrell
Assistant to the SM – Margaret Perrett
Assistant to the SM – Elizabeth Courtney-King
Assistant to the SM – Ann Skemer
Assistant to the SM – Patrick Daniels
Front of House Manager – George Penney
Programme Note:
BB writes in the 6d Programme: "The Young Wick Players have chosen to open the Season [1960/1961] with this play by the well-known French actor and playwright, Sacha Guitry, and they have entered it for the Sussex 3 Act Drama Festival.
As you will see, the play is set in 'one of the best antique shops in Paris', which has given us many problems. However, through the kindness of our Southwick friends in lending various pieces and, particularly, to Mr. George Hollis-Denis in making one piece really necessary to the action, we hope we have produced a reasonably authentic set.
I am most grateful to Ross Workman, my Associate Producer, who achieved so much in my absence on holiday. We shall look forward to seeing him as Producer, possibly next year.
Our next production will be directed by Frances Moulton. Please note the date: 9th, 10th, and 11th February 1961.
We should like to thank you for your support, and we hope to give you some pleasure both tonight and throughout the Season."