The Barn Theatre, Southwick Community Centre
January 8, 9, 10, & 11 2020
From TV's Dead of Night series –
The Exorcism
by Don Taylor

---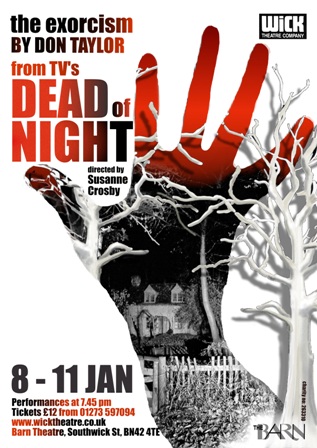 Directed by
Susanne Crosby
It's never absolutley dark, is it? There's no such thing as absolute darkness ..?
Dan and Margaret have come to spend Christmas with Rachel and Edmund in their renovated seventeenth century cottage in beautiful countryside.
As Rachel plays the piano, she suddenly gets a sinister feeling of déjà vu … shortly afterwards the electricity fails and the phone is out of order … it is the start of a series of macabre events which mount relentlessly to a bizarre and terrifying climax.
This classic ghost story set in 1972, when exorcism had more general meanings, is about a centuries old injustice, exorcised by long silent spirits and the four unfortunate people who are .. drawn .. unwillingly .. in ..
Don Taylor's play is perhaps best known for being the first in the Dead of Night TV series, broadcast on BBC in November of 1972; Mr Taylor directed the TV adaptation.
Cast
Rachel – Anna Steddon
Edmund – Sam Razavi
Margaret – Emily Dennett
Dan – John Garland
Newsreader – Dan Dryer
Production Crew
Stage Manager – David Comber
Deputy Stage Manager – Julian Batstone
Lighting Design & Operation – Martin Oakley
Score Composer & Performer – Sam Razavi
Guest vocalist – Menchu Razavi
Sound Design – Bob Ryder
Sound Design – Susanne Crosby
Sound Operation – Dan Dryer
Costumes – Maggi Pierce
Costumes – Cherry Fraser
Properties – Di Tidzer
Properties – Doffey Reid
Set Design & Construction – Dave Comber
Set Design & Construction – Nigel Goldfinch
Set Design & Construction – Carl Gray
Set Design & Construction – Mike King
Set Design & Construction – Sue Netley
Set Design & Construction – Gary Walker
Set Painting – Sue Chaplin
Set Painting – Margaret Davy
Poster & Programme Design – Judith Berrill
Programme Compilation – Susanne Crosby
Promotional photography – Gary Walker
Promotional photography – Sam Taylor
Promotional film – Phil Nair-Brown
Additional Filming – Phil Nair-Brown
Publicity – Susanne Crosby
Publicity – Rosemary Bouchy
Publicity – Peter Joyce
Publicity – Maggie Pierce
Programme Note #1: The Exorcism
SC writes: Welcome to a new year: new decade of theatre productions at the Barn. We start off with an unusual classic ghostly chiller, ideal for warming a cold winter's night.
A contradiction? Apparently not. If we are scared by something that we know is not actually going to harm us, physically we can relax and enjoy it: known as a "safety net". Feeling fearful results in a rush of adrenaline, endorphins and dopamine, which in turn makes us feel really good, especially when we feel safe to enjoy it. Of course that doesn't explain how we've been scaring each other silly at rehearsals and leaving together so we're none of us alone in the dark!
I'm so grateful to Guy Steddon who put the "Dead of Night" DVD in my hand and told me to think about directing it. I absolutely fell in love with it and when I read the play it was even better.
I've been hugely privileged to work with the best actors; each one brings so much it's been an absolute joy to direct.
Special thanks to Sam for composing and recording the music, and for cooking Christmas dinner every single night of the run!
The crew as always have been absolutely brilliant, each in their own expert way.
I hope you get suitably, deliciously, scared: enjoy the show!