The Barn Theatre, Southwick Community Centre
June 27, 28, 29 & 30, 2018.
---
The Tempest
by William Shakespeare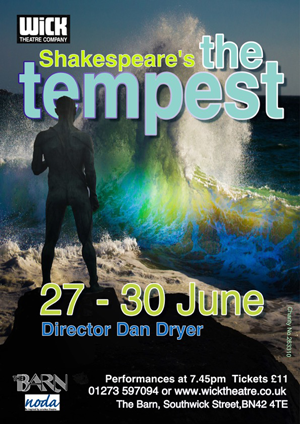 Directed by
Cast
Bob Ryder – Prospero – the rightful Duke of Milan
Sophie Lane – Miranda – his daughter
Emily Hale – Ariel – a spirit
Jacqueline Harper – Caliban – a slave
Susanne Crosby – Antonio – Prospero's brother and usurping Duke of Milan
Derek Fraser – Alonso – King of Naples
John Garland – Sebastian – the King's brother
David Aitchison – Ferdinand – the King's son
Tony Brownings – Gonzalo – an honest counselor
Peter Joyce – Adrian – a lord
Guy Steddon – Trinculo – a jester
Alex Bond – Stephano – a drunken butler
Brian Cowles – Boatswain
Judith Berrill – Iris
Anna Steddon – Ceres
Andrea Jones – Juno
Production Crew
Stage Manager – Gaby Bowring
Deputy Stage Manager – Julian Batstone
Assistant Stage Manager – David Comber
Lighting Design & Operation – Martin Oakley
Sound Design – Rob Derby
Sound Operation – Brian Jones
Costumes – Maggi Pierce
Costumes – Cherry Fraser
Properties – Di Tidzer
Properties – Doffey Reid
Set Design, Construction, Scenic painting – Sue Chaplin
Set Design, Construction, Scenic painting – Dave Comber
Set Design, Construction, Scenic painting – Nigel Goldfinch
Set Design, Construction, Scenic painting – Carl Gray
Set Design, Construction, Scenic painting – Gary Walker
Publicity – Judith Berrill
Publicity – Rosemary Bouchy
Publicity – Peter Joyce
Publicity – Maggie Pierce
Poster & Programme Design – Judith Berrill
Front of House – Tor Dunster-Best & The Wick Team
Programme Note #1: The Tempest
DD writes: "I first encountered the play as a drama student playing the wronged Duke of Milan. It has always been a difficult play to classify: is it a comedy. a romance or a tale of revenge? There are melancholic moments and moments of beauty all set within a magical island. This very ambiguity is what attracts me to the play and it means there is something for everyone when watching. At that time Miranda's greeting "Oh brave new world" seemed perhaps less ironic than it does to me today – but the themes of hope and forgiveness are just as powerful. As Shakespeare's farewell to the stage it is also very moving in showing a man ready to put down his pen after a life of creating magic.
Of Gender – I have never been worried about casting against gender and you will see in the play tonight that some characters traditionally male are played by women. Of course, in Shakespeare's day all the parts were played by men with younger actors taking female roles. The audience would have accepted Miranda and Ferdinand's love played by two male actors without any fuss. So. I ask you to sit back and enjoy the characters just as you would have done in Shakespeare's day ….