The Barn Theatre, Southwick Community Centre
October 4, 5, 6 & 7 [+mat] 2017
Brief Encounter
by Noël Coward
Adapted by Emma Rice
Directed by
Diane Robinson
Musical Director
Liz Ryder-Weldon
---
2017 BHAC Full Length Drama Competition
– Best Technical Achievement
– Best Publicity
---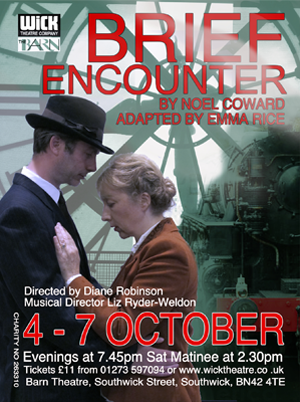 Cast
Hazel Starns – Laura
James Newton – Alec
Elena Markham – Myrtle
David Peaty – Albert
Kate McGann – Beryl
Ben Pritchard – Stanley
Adrian Kenward – Stephen
Ryan Etherington – Fred
Adrian Kenward – Bill
Matt Arnold – Johnnie
Samantha Holland – Mary
Andrea Jones – Hermione
Judith Berrill – Dolly
Derek Fraser – Usher – Ensemble – Bobby
Colleen Gale – Usher – Ensemble
Andrea Jones – Usher – Ensemble
Caron Riley – Usher – Ensemble
Jenny White – Usher – Ensemble – Margaret
Production Crew
Film Maker – Jay Shurey
Choreography – Colleen Gale
Choreography – Caron Riley
Choreography – Jenny White
Production Manager – Peter Joyce
Stage Manager – Gaby Bowring
Deputy Stage Manager – Julian Batstone
Technical Adviser – Martin Oakley
Lighting Design – Strat Mastoris
Lighting Operation – Dan Dryer
Sound Design – Bob Ryder
Sound Operation – Brian Jones
Set Design – Judith Berrill
Wardrobe – Maggie Pierce
Wardrobe – Cherry Fraser
Properties – Anita Shipton
Properties – Di Tidzer
Set Construction – David Comber
Workshop member – Dave Collis
Workshop member – Carl Gray
Workshop member – Nigel Goldfinch
Workshop member – Gary Walker
Scenic Painting – Sue Chaplin
Publicity – Judith Berrill
Publicity – Rosemary Bouchy
Publicity – Peter Joyce
Publicity – Maggi Pierce
Poster and Programme – Judith Berrill
Front of House – Tor Dunster
Programme Note #1: Brief Encounter
'Brief Encounter' is a name that many are familiar with, but they may not remember the actual 1945 film. What most people will know though, is that it is a beautiful and tender love story about a chance meeting between two people, prevented from being together by the expectations of the society in which they find themselves.
The film, released in 1945 and directed by David Lean, was based on a short play by Noël Coward called 'Still Life,' [1936], who also wrote the screen play for the film. In a time when homosexuality was illegal and was to remain so for another 20 years, Noel Coward, who was gay, understood very well how difficult society made it to express the most fundamental of human needs and emotions in a way that was 'acceptable'.
Our central characters in the play experience a micro marriage, which lasts just a few weeks, during which they experience extreme joy, shame, lies, deceit, frustration, anger and loss in a very British way.
This version of 'Brief Encounter', is the Kneehigh Theatre Company's version, adapted for the stage by Emma Rice and first staged in 2008. It is the same story and uses much of the same dialogue as the original play and film, but it explores love in its many forms and although the painful liaison of Alec and Laura remains at the core, the fun and joy in love that the other characters in the station café experience, helps to make the central story more poignant.
'Brief Encounter' uses many elements of story telling: theatre, music, song, dance, and film to tell the story pf Laura and Alec and this provides us with a perfect vehicle to create a vibrant, playful piece that also delves sometimes into the world of memories, fantasy and imagination, occasionally enabling displays of Technicolor emotion. These very brief displays hint at hat lies beneath the tightly buttoned-up exteriors.
To tell the story to you tonight in words, music, song and dance we have assembled a cast of extremely talented and versatile performers. Some of these will be familiar faces at The Barn, but several of them are Wick 'virgins,' including three performers who have never acted in a play before.
On the subject of love we have two actors, who have both been married to at least three other cast members in previous productions and we even have two cast members who were boyfriend and girlfriend in their teenage years – and have only met up again when cast in this production. We'll leave you to guess who they are!
It's been a joy working with such an amazing bunch of people, thank you for making it such a great experience.