The Barn Theatre, Southwick Community Centre.
April 3 & 4, 2014.
---
Shooting Truth
by Molly Davies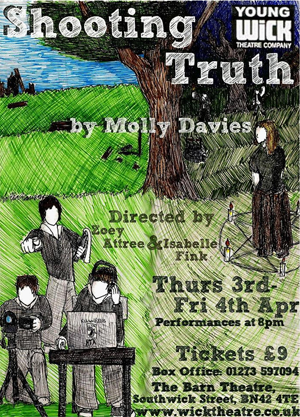 Directed by
Zoey Attree  &  Isabelle Fink
Cast
The 21st Century
Alice Bennett – Alice
Luke Mepham – Liam
Courtney Everett – Leanne
Matthew Rouse – Jake
Ollie Yates – Sid
Lisa McLaughlin – Sadie
Archie Deaves – Luke
The 17th Century
Amie Sutton – Freya
Josh Perretta – Billy
Lisa Pepper – Sal
Dylan Gibbs – Len
Joe Gibbs – John
Summer White – Lou
Ted Gibbs – A Marley Twin
Alice Sutton – A Marley Twin
Holly Knight – Gran
Production Crew
Producer – William McDonald
Executive Producer – Mark Best
Stage Manager – Mark Best
Deputy Stage Manager – Zoey Attree
Assistant Stage Manager – William McDonald
Poster Design – Holly Knight
Costumes – Margaret Pierce
Costumes – Cherry Briggs
Costumes – Zoey Attree
Costumes – Isabelle Fink
Lighting Design – Martin Oakley
Lighting Design – Isabelle Fink
Lighting Design – Zoey Attree
Lighting Operator – Martin Oakley
Sound Design – Zoey Attree
Sound Design – Isabelle Fink
Sound Operator – Matthew Symms-Williams
Publicity – Rosemary Bouchy
Publicity – Anna Quick
Production Photographer – Lucien Bouchy
Front of House Co-ordinator – John Garland

Programme Note #1: Shooting Truth
ZA and IF wrote: "Shooting Truth is a play that had been circulating within the Young Wick for a few years now, and we are very proud to have finally put it on as a comeback performance on the Barn stage. This last year has been an exciting challenge for all of us involved beginning with the short production of 15 Minute Hamlet at the Shoreham Wordfest in September 2013 and taking us back to our spiritual home in the Barn Theatre today. The Youth has brought with it a wealth of ideas coming from not only the production team, but also the cast, aiding with variety of creative input into the production.
Shooting Truth has been an incredible challenge in all senses of the word. As our directorial debut, we have been frequently overwhelmed with how much really goes into these shows and will certainly have a new appreciation for all the hard work our previous directors and teams have put into them.
'Thank you' is not nearly enough for all the support we've received; as it's made this wonderful performance possible."
---