The Barn Theatre, Southwick Community Centre.
June 20, 21, 22 & 23, 2012.
---
Much Ado About Nothing
by William Shakespeare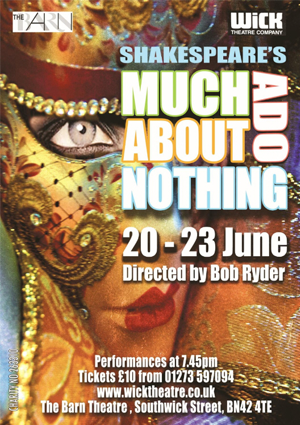 Directed by
Bob Ryder
Cast
…at Leonato's
Graham Till – Leonato [a provincial guvnor]
Tony Brownings – Antonio [his brother]
Sophie Lane – Hero [his daughter]
Amy Curtis – Beatrice [his niece]
Charlie Blandford – Margaret
Isi Fink – Ursula
…visitors from Pedro's
James Doyle – Don Pedro [a big-time guvnor]
Kevin Isaac – Balthasar [his runner]
Tom Harris – Claudio
Guy Steddon – Benedick
James Dubois – Don John [bastard brother of Pedro]
Frank Leon – Conrad
John Garland – Borachio
…from the Town
Mark Best – P.C. Dogberry
Richard Bulling – P.C. Verges
Judith Berrill – Patrol Leader
Zoey Attree – Dusty
Katie Piper – Lulu
Anna Quick – Cilla
Natalie Notley – Frances [the Vicar]
James Dubois – Blake [the Sexton]
Production Crew
Stage Manager – Martin Oakley
Deputy Stage Manager – Hem Cleveland
Lighting – Jordan Harvey
Sound – Jack Hudson
Wardrobe – Cherry Briggs
Wardrobe – Margaret Pierce
Wardrobe – Zoey Attree
Props Manager – Caroline Woodley
Set – David Comber
Set – Carl Gray
Set – David Collis
Set – Sue Chaplin
Set – Martin Oakley
Set – Sheila Neesham
Set – Margaret Davy
Poster Design – Judith Berrill
Publicity – Anna Quick
Publicity – Rosemary Bouchy
Publicity – Lucien Bouchy
Publicity – Rosemary Brown
Front of House – Betty Dawes
Programme Note #1: Much Ado About Nothing
BR wrote: "This marvellous play, probably first performed around 1598, has been hugely popular ever since. In many ways it feels very modern – Beatrice and Benedick are a model for the kind of 'screwball' romantic comedy now so familiar in the movies. In other ways, though, it foreshadows the kind of 'problem plays' which Shakespeare was to go on to write. Amid the comedy, there are some dark shadows around the plot to discredit the innocent bride-to-be, Hero. Most of the male characters [though not Benedick] are quick to believe the trumped-up charges against Hero, and hypocritical in condemning her. On the whole, the women in the play have much more humanity and common-sense than the men. So we are pleased that, in our production, Friar Frances and the all-female Watch take special credit for discovering the error and wickedness of men, and for getting things put right!
It has been a real pleasure working with an enthusiastic and talented team of actors and production crew who have brought Much Ado to life. It's great to welcome five new members, in our cast of 20, who are making their début with Wick at The Barn. And it's also very heartening that a further five members of the cast originally worked with our youth wing, Young Wick. We hope you enjoy the production as much as we've enjoyed preparing it!"
Note: This is the 20th show which Bob Ryder has directed for Wick. His previous Shakespeare productions at The Barn were Twelfth Night [1994], Romeo and Juliet [1995], A Midsummer Night's Dream [1996], As You Like It [2004] and Richard lll [2008]"
---