The Barn Theatre, Southwick Community Centre.
April 13, 14, 15, 16 & 17, 2010.
---
Noises Off
by Michael Frayn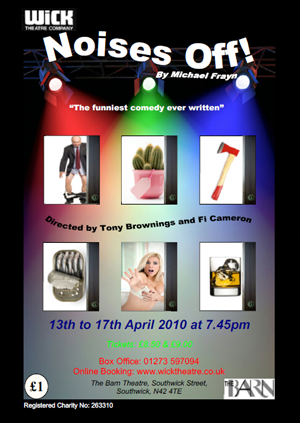 Directed by
Tony Brownings  &  Fiona Cameron
Cast
Judith Berrill – Dotty Otley
Guy Steddon – Lloyd Dallas
Mark Best – Garry Lejeune
Sophie Lane – Brooke Ashton
Olivia Robinson – Poppy Norton-Taylor
John Garland – Frederick Fellowes
Natalie Colgate – Belinda Blair
Tom Harris – Tim Allgood
Bob Ryder – Selsdon Mowbray
Production Crew
Stage Manager – David Comber
Deputy Stage Manager – Helen Brewster
Prompt – Fiona Cameron
Back Stage Crew – Paul Checkley
Back Stage Crew – David Collis
Back Stage Crew – David Comber
Back Stage Crew – Howard Neal
Back Stage Crew – Martin Oakley
Lighting Design & Operation – Mike Medway
Sound Track – Bob Ryder
Sound Operator – Matt Jones
Props – Margaret Davy
Props – Sue Whittaker
Wardrobe – Cherry Briggs
Wardrobe – Margaret Pierce
Set Design & Construction – Sue Chaplin
Set Design & Construction – Paul Checkley
Set Design & Construction – David Collis
Set Design & Construction – David Comber
Set Design & Construction – Margaret Davy
Set Design & Construction – Carl Gray
Set Design & Construction – Peter Harrison
Set Design & Construction – Sheila Neesham
Programme & Poster Design – Fiona Cameron
Publicity – Rosemary Bouchy
Publicity – Lucien Bouchy
Publicity – Rosemary Brown
Production Photos – Lucien Bouchy
Front of House – Betty Dawes
Programme Note #1: Noises Off!
TB & FC wrote: "In our opinion, Noises Off is the funniest play in the English language which is why it has enjoyed successful runs at the National Theatre and on Broadway since its first production at the Lyric Theatre, Hammersmith twenty-eight years ago.
Technically this is one of the most challenging plays you would ever wish to stage and we have been bowled over by the commitment and support we have received from everyone involved. In particular we would like to thank the Workshop team for their unstinting hard work and overtime and the Props and Publicity teams for their dedication and hard work. Our thanks too, are due to the cast who have risen to the challenge in a most professional manner and have exceeded all our expectations!"
Programme Note #2: Noises Off!
Of the Farce within the Farce, Nothing On! the Director writes:
"Since leaving RADA it has been a long held ambition of mine to direct the masterpiece that is Nothing On. Even the title is a stroke of genius. At its most basic level we think of people stripped of their clothing; meat and drink to traditional farce – yes, but surely we cannot deny the metaphorical suggestion that the characters might be stripped also of their quirks of personality, their wits and their very raisons d'etre by the time we are through. Consider also the myriad ways to which this simple phrase is alluded to throughout the play.
From curtain up we observe that there is 'nothing on' the plain walls of the upper floor in this charming converted mill and can see that there is 'nothing on' the television that afternoon. Mrs Clacker is found to have put 'nothing on' the favourite in the 4.15 at Royal Ascot and the couple returning from Spain clearly have 'nothing on' that afternoon despite their normally jam-packed social diary. Indeed they plan to spend the afternoon in bed; yet another way in which they can have 'nothing on'. To cap it all, as the plot meanders to its inevitable conclusion with a nod to dear old Harry [Pinter] in its masterly pauses and a bow to Chekhov in its thrumming emotional underpinning, we eventually stumble on the realisation that Her Majesty's Inland Revenue itself has 'nothing on' Phillip despite his frantic and ingenious attempts to deceive and defraud.
Without wishing to extend the thinking beyond the reader's tolerance, I would like you to consider also, the paradox of this simple phrase; for if there is 'nothing on' then surely it must be 'all off!' And 'all off' everything most certainly is by the end of the play. All bets are off, Flavia is ready to 'call it off' with Philip and the sardines are all distinctly 'off' – a symbol, if ever one were needed, of the general decay to be detected at the centre of each character and at the very core of the play itself."
Of the Posset Players, the programme notes:
Dotty Otley [Mrs Clackett] is well known to the nation as 'Britain's Favourite Lollipop Lady' for her rôle of Mrs Clockitt in over 400 episodes of TV's much-loved On the Zebras. Graduating from the legendary Teefantitz Academy of Singing and Dancing, she went on to 'learn the ropes' for several years at Peebles Rep Theatre. Since then she has starred in a wonderful range of musical theatre and light comedy tours across the land and on cruises across the oceans. She has also played the costume classics, famously reviving the rôle of Mrs Packett in Sheriden's rarely-performed The Arrivals. The nation's heart recently went out to Dotty after the tragic loss of her fifth husband, 'lolly', knocked down in a cruel twist of fate on a pedestrian crossing in Clacton. After the incomprehensible decision of TV producers to axe the ever-popular Zebras, Dotty is now returning to her first love, the theatre, with this special tour of Nothing On, thrilled to pursue her passion for acting and actors.
Brooke Ashton [Vicki] is probably best known as the girl wearing nothing but 'good honest, natural froth' in the Hauptbahnhofbrau Lager TV ad. But she has also enjoyed a flourishing stage career, extending from a widely acclaimed Dandini in Hull to six months in the Lebanon with Pixie Pearls. Her television appearances range from Girl at Infants' School in On the Zebras to Girl in Strip Joint in On Probation. Cinema goers will recall in The Girl in Room 14 in which she played Girl in Room 312. The is Brooke's first serious stage rôle in the UK.
Belinda Blair [Flavia Brent] began her stage career at the age of nine when she appeared in the eventful Tel Aviv production of Joseph and the Amazing Technicolor Dreamcoat in 1971 with George Michael in the starring rôle. From then she specialised in biblical musicals appearing in Godspell, Jesus Christ Superstar and the controversial musical about the life and work of the evangelist, Billy Graham – Billy the Baptist in which she gave her critically noted performance as Nancy Reagan. Belinda broke into television in the early eighties when she appeared in On the Zebras as the accident prone Miss Mille Malloy and, later, as the seductive alien in the Christmas Special of Blake's 7 – for which she was delighted to receive her first BAFTA nomination. Belinda lives with Joey Mac, the stand-comedian. They have three dachshunds and two budgies and lots of laughs.
Frederick Fellowes [Philip Brent] began his career in the family comedy troupe [The Funny Fellowes] and believes he has performed at every holiday camp in the North of England. Cameo rôles followed in many of our favourite sit-coms. He was Ambulance Technician in Day Hospital, Fireman Two in Blue Watch and Traffic Warden in On the Zebras before receiving his big break as Ben Folkestone, the Purser in Channel Hopping, sadly cancelled after the pilot episode. Freddie was also recently seen in the comedy drama What's Up Doc? playing Dr Bob Soul. For the past three years Freddie has been touring abroad with the Nairobi Players and is very happy, therefore, that his dear wife Camilla will finally be able to see him perform live on stage in Nothing On.
Garry Lejeune [Roger Tramplemain] is proud to be the illegitimate son of the ground-breaking photographer Lucien Lejeune. Twice winner of the Rose Bruford Medal for Effort, his many successful tours have brought him to this corner of England only once before when he starred in an ambitious staging of the classic Up the Virgin Soldiers. He also made innumerable TV appearances but is probably best known as Cornetto the Spanish ice-cream salesman who stirs the hearts of the lollipop ladies in On the Zebras. He recently made his big screen debut in Hard Men of Hastings for which he was nominated as 'Best Male Member of a Cast in any British Low Budget Comedy' by Daily Mail readers.
Selsdon Mowbray [Burglar] is making a welcome return to the stage after an extended time away. His long and distinguished career began in 1953 when, as a mere boy, his potential was spotted by a Butlins Redcoat. Starting at the bottom, he worked his way up the profession over many years, regularly wowing his audience at the Peebles Rep Theatre and summer tours all around these illustrious isles. He later gained national fame in the controversial all-male production of Romeo & Juliet at the short-lived English Naturist Theatre, and in the subsequent court case. This gave him time to write his first theatre memoir, A View from the Flies. Selsdon played the much-loved character 'Drunk Man at School Gate' in the first series of TV's On the Zebras, and hopes to be called back to the small screen one day. Meanwhile, he has been working on his definitive autobiography, A Life Distilled.
Lloyd Dallas [Director] has come a long way in the business of show – from his childhood beginnings as the 'Precious Prune' in the long running and admired adverts for Piston's Mixed Cereal Snack Bars to being named as one of the 'Top Ten Mavericks of British Theatre' by The Gillingham Gazette last year. As an actor, he toured the world extensively, performing in places such as Cairo, Beijing and Luton with his one man show 'The Last Days of Firoggit Plu'. He appeared in several television programmes, including On the Zebras, The Tsar of Dagenham and Little Bunny Boo-Boo before discovering a talent for directing. Since moving to the other side of the stage, Lloyd has caused quite a stir with his unique approach to the classics, his Shakespeare productions can spring up just about anywhere any time! His setting of Coriolanus within a Circus caused a great stir at the time and was described by The Swindon Observer as being 'unlike anything I have ever seen'. Later this year, he is directing Richard lll in Aberystwyth as part of the 'Bringing Culture to Wales' festival. Lloyd is delighted to be reunited with so many of his friends in the production of Nothing On.
Tim Allgood [Stage Manager] began his career in stage-management while studying carpentry at Jesus College, Oxford when he was asked to construct a revolving crucifix for the Drag Society's production of Messiah. He received literary a claim for his design of the lollypop in the popular TV show, On The Zebras. His return to the theatre comes after a short stint in the US fitting bull bars to the front of 4×4's and Landrovers.
Poppy Norton-Taylor [Assistant Stage Manager] is from a family more often on the Boards of leading companies that on the boards with touring companies. Her father is chairman of European Breweries but has been 'terribly sweet about all this – so far!' After completing her schooling at Cheltenham and finishing in Montreux she found life far too full to leave time for work. So this is her first job and she is enjoying the challenge enormously. Her hobbies include Three–day eventing, skiing, tennis, reading good books and petting anything small and furry.
---