The Barn Theatre, Southwick Community Centre.
December 10, 11, 12 & 13, 2008.
---
Gaslight
by Patrick Hamilton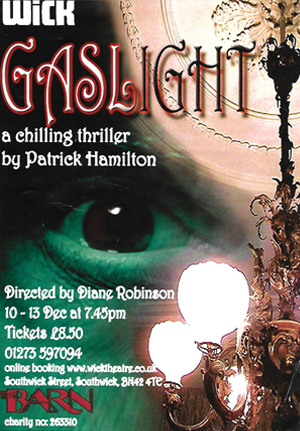 Directed by
Diane Robinson
Cast
John Garland – Jack Manningham
Claire Wiggins – Bella Manningham
Sophie Lane – Nancy
Rosemary Mose – Elizabeth
David Creedon – Rough
Ray Hopper – First Man
Tom Harris – Second Man
Production Crew
Stage Manager – David Comber
Stage Manager – Tony Brownings
Deputy Stage Manager – Zara Spanton
ASM – Olive Smith
Set Design – David Comber
Lighting Design – Mike Medway
Lighting Operator – Lee Wenham
Music Composed & Produced – Steve Gallant
Props – Margaret Davy
Props – Sue Whittaker
Wardrobe – Cherry Briggs
Wardrobe – Margaret Pierce
Workshop Team – David Comber
Workshop Team – David Collis
Workshop Team – Carl Gray
Workshop Team – Paul Checkley
Workshop Team – Sue Chaplin
Workshop Team – Sheila Neesham
Workshop Team – Margaret Davy
Workshop Team – Judith Berrill
Publicity – Rosemary Bouchy
Publicity – Anna Barden
Publicity – Rosemary Brown
Production Photographs – Lucien Bouchy
Front of House – Betty Dawes
Programme Note #1: Gaslight
DR wrote: "Patrick Hamilton came from a family of failed writers and left school at just 15, with no qualifications and no apparent prospects except for the ambition to be a writer! Despite the raffish existence he subsequently led, by the age of 25 his first play, Rope, was running the West End and he ha written the first of a number of successful novels. Hamilton struggled to follow this stage success, but finally in 1938 Gaslight was written.
The play opened in the West End in 1938 and was even more successful than Rope had been. It also went on to have a very successful run on Broadway with the title Angel Street. However, many people will know Gaslight only through the two screen versions, the 1940 British one being less well known than the 1944 American film in which Ingrid Bergman won an Oscar for her portrayal of Bella Manningham.
Neither of the films is very faithful to the play, both finding it necessary to give the plot a 'back story', which means it takes an age to get to the heart of the wonderfully sinister play which Patrick Hamilton wrote and you will see tonight."
---