The Barn Theatre, Southwick Community Centre.
August 5, 6 & 7, 2004.
---
The Exam
by Andy Hamilton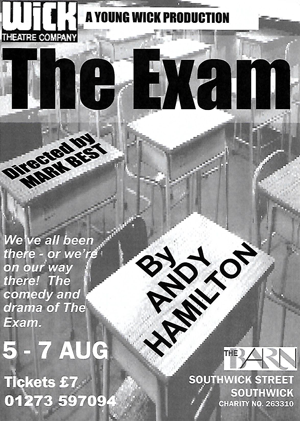 Directed by
Mark Best
Cast
Stacy Crosskey – Mr. A
Amy Abbott – Mrs. A
Zoë Attree – Mr. B
Katie Foulsham – Mrs. B
Emma Southeran – Mrs. C
Chris Morgan – Andrew
Sara Hadfield – Bea
Helen Brewster – Chas
Amy Curtis – BSE
Ryan Lainchbury – Biggs
Kira Brannlund – Exam
Stuart Isaac – Dad
Kirsty Biss – Jean
Production Crew
Producer – Kevin Isaac
Lighting – Mike Medway
Sound – Simon Snelling
Technical Manager – Kevin Isaac
Stage Manager – Marc Lewis
ASM – Sheila Holgate-Wright
Costume – Cherry Briggs
Workshop Team – Mike Davy
Workshop Team – David Collis
Workshop Team – David Comber
Workshop Team – Marc Lewis
Workshop Team – Brian Box
Front of House – Betty Dawes
Publicity – Rosemary Bouchy
Publicity – Rosemary Brown
Publicity – Judith Berrill
Box Office – Margaret Murrell
Programme Note #1: The Exam
Mark Best's Director's Notes in the programme said; "I would first like to thank all members of the Wick for their support and encouragement. In particular Kevin, who has given the group and myself some much guidance and input, the show would not have been possible without him. It has been a great experience working with Young Wick. There is a tremendous amount of talent amongst the group and it has been a delight to see them progress and learn whilst working as an ensemble. Not only has their dedication and hard work been imperative to this production but their ideas and enthusiasm have been crucial to the shape of the piece. I have thoroughly enjoyed working with these gifted youngsters and look forward to continuing to do so in the future . [That's if they're not sick of me by then!]"
Programme Note #2: The Exam
This piece is a new script published by a writing programme aimed at teenagers called International Connections, a collaboration between the National Theatre, London and other international youth theatres. These new plays for young people were brought together by many admired playwrights and cover a whole range of contemporary themes. This piece is a very appropriate subject to be covered by our youth group as many have been going through these stressful examinations themselves in the last couple of months!
The Exam is a very entertaining and thought provoking show for young and old alike. Adults will remember the knotted stomach as the minutes ticked by and the scratching of pens would be the only sound to be heard. Whilst youngsters in the audience may well find some remarkable resemblances to the teachers and the words of wisdom spoken to them by parents! This show is beautifully scripted and has a very warm and entertaining view on what we will all remember as being one of the most nerve-racking times of our lives. So – sit back and enjoy a trip down memory lane!
---