The Barn Theatre, Southwick Community Centre.
August 6, 7, 8 & 9, 2003.
---
The Secret Rapture
by David Hare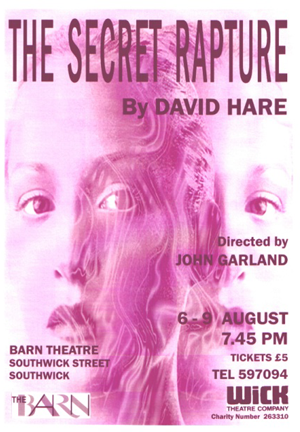 Directed by
John Garland
Cast
Peta Taylor – Isobel Glass
Pat Lyne – Marion French [Isobel's sister, a Conservative Junior Minister]
Bob Ryder – Tom French [Marion's husband]
Katie Brownings – Katherine Glass [widowed step-mother to Marian & Isobel]
Philip Balding – Irwin Posner [Isobel's partner]
Judith Berrill – Rhonda Milne [Marion's PA]
Production Crew
Lighting Design – Mike Medway
Lighting Technician – Janice Gooch
Sound Design & Operation – Simon Snelling
Technical Manager – Mike Medway
Stage Manager – Marc Lewis
ASM – Olive Smith
Properties – Sue Whittaker
Properties – Margaret Davy
Costume Co-ordination – Cherry Briggs
Set Construction – Brian Box
Set Construction – David Comber
Set Construction – David Collis
Set Construction – Mike Davy
Set Construction – Marc Lewis
Front of House – Betty Dawes
Box Office – Margaret Murrell
Publicity – Rosemary Bouchy
Publicity – Rosemary Brown
Programme Note #1: The Secret Rapture
The Director writes; "The Secret Rapture like so many of David Hare's plays, appears to have a political theme. Set in the 'get-rich-quick' 1980s., it explores the lengths people will go to in order to achieve their goals. The central character is one of absolute goodness, always trying to do the right thing. Those around her are quick to exploit this, manipulating her to their benefit. It is therefore ultimately a play about emotional blackmail and dysfunctional relationships.
The play seems to have echoes of my own life. When I first saw it I was part of the money-grabbing culture, working unhappily as a computer programmer. A few years later I took the part of Irwin, by which time I was training as a psychiatric nurse. It was a useful insight into the way another person's behaviour affects another and became increasingly aware of the perils of trying to please others. Love turns to obsessive behaviour. Is Isobel the victim here, or does she bring fate upon herself?
I am extremely lucky to have had great support from both my cast and from behind the scenes for this, my Directorial debut at the Barn. I would, however, especially like to thanks Peta Taylor who saved the show by stepping in a short notice and who has been rehearsing every night since!"
---