The Barn Theatre, Southwick Community Centre.
October 3, 4, 5 & 6, 2001.
---
The Madness of George lll
by Alan Bennett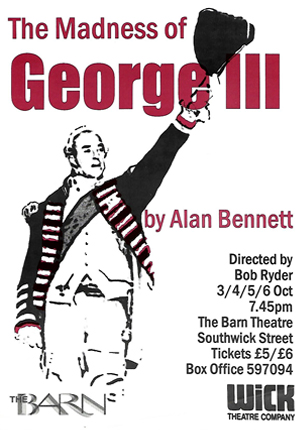 Directed by
Bob Ryder
Cast
Royal Family
David Creedon – George lll
Joan Braddock – Queen Charlotte
John Garland – Prince of Wales
Attendants
John Robinson – Fitzroy
Simon Birks – Greville
Kevin Isaac – Braun
Judith Berrill – Papandiek
Diane Robinson – Lady Pembroke
Joan Bearman – Maid
Government
Tony Brownings – Pitt
Ray Hopper – Thurlow
Sid Jones – Dundas
Opposition
John Barham – Fox
Simon Druce – Sheridan
Doctors
Hugh Hemmings – Baker
David Bickers – Warren
Malcolm Wood – Pepys
David Goodger – Willis
Other characters
Claire Wiggins – Margaret Nicholson
Ralph Dawes – Boothby
Eric Seymour – Ramsden
Stuart Isaac – Footman
David Pierce – Dr Willis's Assistant
Eric Seymour – Dr Willis's Assistant
Stuart Isaac – Dr Willis's Assistant
Claire Wiggins – Dr MacAlpine
Production Crew
Stage Manager – Dave Comber
Stage Manager – Marc Lewis
ASM – Jean Porter
Lighting – Mike Medway
Sound – Simon Snelling
Set Building – David Comber
Set Building – Dave Collis
Set Building – Brian Box
Set Building – Mike Davy
Set Building – Marc Lewis
Set Painting – Sheila Neesham
Set Painting – Susanna Chaplin
Properties – Sue Whittaker
Properties – Margaret Davy
Wardrobe – Sheila Neesham
Wardrobe – Judith Berrill
Press & Publicity – Rosemary Bouchy
Press & Publicity – Rosemary Brown
Poster & Programme Design – Judith Berrill
Front of House Co-ordinator – Valerie Bray
Programme Note #1: The Madness of George lll
BR wrote: "When I first directed a production for Wick Theatre Company, exactly ten years ago, the play was Habeas Corpus, by a certain Alan Bennett. It's a generous play [much more so than Joe Orton material which it echoes] and is packed with music-hall gags and earthy humour of the seaside postcard. At its heart is a sharp feeling of human frailty. In life there is death, it seems to say, but laughter serves to hold our fears at bay. The fact that two of the play's main comic characters are doctors, out of their depth in the tide of mortality, ties all this together rather nicely.
So here we are, at the Barn, ten years later, with a Bennett play that on the face of it is totally different, but in essence is very similar – the generosity, the humour, the keen sense of mortality and the ways the resourceful human spirit copes with it. The reappearance of 'comedy doctors' is no mere coincidence either!
The challenges of producing George would make most theatre companies turn tail. Its scale is impossible for any unsubsidised professional group, because of the economics. Amateur groups don't have to pay wages, but they still need to have real strength in depth, in their acting resources and their technical teams. It is a tribute to Wick Theatre Company that they have built up their membership, the skills and the sheer ambition to take on challenges of this type.
A particular question in the staging of George is how to present almost 40 scenes, some them very short, as smoothly as possible. In fact, the jumps time and place, and the number of them, are not unlike the plays of Shakespeare. Our approach has therefore been to use the same free-flowing style that we have developed for Shakespeare productions at the Barn – where action unfolds quickly on a single set, and where no fittings, furniture or props appear unless they are directly used in the action.
I hope you enjoy this production and the efforts of all those involved in making it happen. A special welcome is due to Simon Birks, Malcolm Wood, Sid Jones, Eric Seymour and David Pierce, for whom this is their first production for Wick."
---