The Barn Theatre, Southwick Community Centre.
August 9, 10, 11, 2001.
---
The Real Inspector Hound
by Tom Stoppard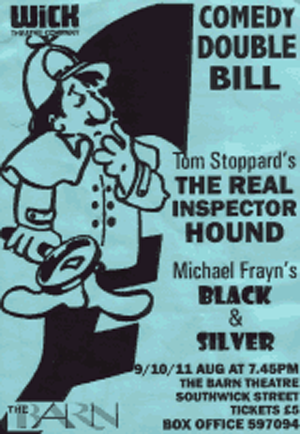 Directed by
Simon Druce
Cast
John Garland – Moon
Bob Ryder – Birdboot
Theresa Manville – Mrs. Drudge
Adrian Kenward – Simon
Candice Gregory – Felicity
Zoë Edden – Cynthia
Peter Thompson – Magnus
Hugh Hemmings – Inspector Hound
Derek Fraser – Radio Announcer / Body
Black & Silver
by Michael Frayn
Directed by
Peter Thompson
Cast
Adrian Kenward – Peter
Hazel Starns – Natalie
Production Crew
Stage Manager – Marc Lewis
ASM – Judith Berrill
Lighting – Mike Medway
Sound – Simon Snelling
Properties – Margaret Davy
Properties – Sue Whittaker
Costume – Margaret Pierce
Publicity – Rosemary Bouchy
Publicity – Rosemary Brown
Publicity – Frances Thorne
Workshop Team – Brian Box
Workshop Team – David Collis
Workshop Team – David Comber
Workshop Team – Mike Davy
Workshop Team – Marc Lewis
Front of House – Valerie Bray
Box Office – Margaret Murrell
Programme Note #1: The Real Inspector Hound & Black and Silver
"Welcome to Studio theatre from the Wick Theatre Company in Southwick's historic Barn Hall
This production is the second in an exciting new development for Wick. We are now expanding our traditional season of four productions, up to six a year – or more. And at least two of those will now be performed in a 'studio' style. Sometimes this will man that plays will be presented 'in the round', with the audience sitting around the acting area, in the main body of the Barn. Sometimes it may be presented in the even more intimate area of the big new stage. In any event, the maximum audience will be no more than 100 people – and all the action will be very direct and 'close-up'!
Tonight it is a double bill – by two of the masters of modern British comedy. Black and Silver by Michael Frayn is a brilliant comic miniature, by the playwright of Noises Off. It's a nightmare farce, as a young couple revisit the scene of their happy honeymoon hotel – but this time with the handicap of having to share their room with their own screaming baby. The Real Inspector Hound, by Tom Stoppard, is an acknowledged comedy masterpiece. It's the ultimate spoof on the Agatha Christie 'whodunnit' – and a whole lot more besides!
This production marks the directing debut of both Peter Thompson and Simon Druce. They are two of the six Wick members in 2001preenting their first productions for the Company. This is a sure sign o the 'strength in depth' that Wick Theatre Company can now draw upon. We wish Simon and Peter and their stage and backstage crew, all the very best for a successful production and for a demonstration of an extra style of theatre now on offer at the Barn."
---