The Barn Theatre, Southwick Community Centre.
October 6, 7, 8 & 9, 1993.
---
Travesties
by Tom Stoppard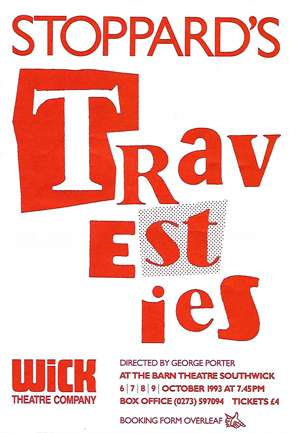 Directed by
George & Charles Porter
Cast
Bob Ryder – Henry Carr
Ralph Dawes – Bennett
Adrian Kenward – Tristan Tzara
David Creedon – James Joyce
Jo Chalk – Gwendolen
Judith Berrill – Cecily
Peter McGhie – Lenin
Joan Braddock – Nadya
Production Crew
Stage Manager – Frances Thorne
Lighting & Sound – Trevor Langley
Lighting & Sound – Andy Chalk
Set Design & Construction – Brian Box
Set Design & Construction – Dave Collis
Set Design & Construction – Dave Comber
Set Design & Construction – Mike Davy
Set Design & Construction – Ralph Dawes
Set Design & Construction – Mark Flower
Set Design & Construction – Frances Thorne
Set Design & Construction – Sheila Neesham
Properties – Margaret Davy
Properties – Sue Whittaker
Wardrobe – Margaret Faggetter
Wardrobe – Jane Porter
Additional Costumes – Utopia
Continuity – Margaret Ockenden
Choreography – Jane Porter
Music – Nick Ryder
Publicity – Judith Atkinson
Publicity – Rosemary Brown
Publicity – Ann Donkin
Publicity – Jean Porter
Photography – George Laye
Box Office – Jill Redman
Front of House Manager – Margaret Murrell
Foyer Flowers – Audrey Laye
Programme Note #1: Travesties
GP wrote: "Travesties is one of the finest plays written by Tom Stoppard, one of our most accomplished contemporary playwrights. When first staged in 1974 it won the Evening Standard [a London paper: web ed] award for Best Play, with John Wood collecting the Best Actor award for his portrayal of Henry Carr.
Most of the play is under the erratic control of Old Henry Carr's memory which is not notably reliable. His recollections tend to 'jump the rails' occasionally and are coloured by his own prejudices and delusions. Stoppard skillfully uses this device to keep the action moving at a rapid pace, switching from one comic scene to another just when it suits him. You will see scenes in more varied styles than would seem possible in one play. Clive James described watching Travesties as 'like drinking champagne'; tonight we hope to show you why.
This production is our entry for the 1993 Brighton Full Length Drama Festival. We are pleased to welcome Jan Wagstaff who will be giving a public adjudication after the Friday performance."