The Barn Theatre, Southwick Community Centre.
December 8, 9, 10, 11 & 12, 1992.
---
Hedda Gabler
by Henrik Ibsen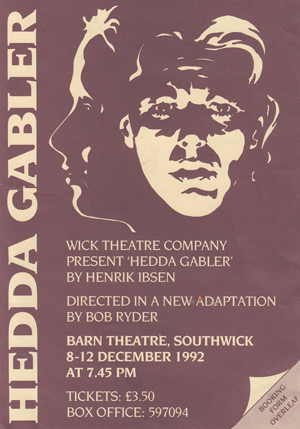 Directed in a new adaptation by
Bob Ryder
Cast
David Creedon – George Tesman
Judith Berrill – Hedda Tesman
Sheila Wright – Miss Juliana Tesman
Liz Gibson – Berta
Jo Hopper – Mrs Elvsted
Peter McGhie – Judge Brack
David Stenning – Eilert Levborg
Production Crew
Assistant Director – Jamie Boath
Stage Manager – Dave Collis
Set – Brian Box
Set – Dave Collis
Set – Dave Comber
Set – Mike Davy
Set – Ralph Dawes
Set – Frances Thorne
Set – Sheila Neesham
Props – Margaret Davy
Props – Sue Whittaker
Costumes – Margaret Faggetter
Costumes – Val Dymock
Lighting & Sound – Jamie Boath
Lighting & Sound – Andy Chalk
Lighting & Sound – Frances Thorne
Continuity – Jean Porter
Publicity – Judith Atkinson
Publicity – Jamie Boath
Publicity – Anne Donkin
Publicity – Jean Porter
Photography – George Laye
Box Office – Jill Redman
Front of House Manager – Margaret Murrell
Programme Note #1: Hedda Gabler
Programme Notes: "Exactly a hundred years ago, Hedda Gabler had its first English tour. It came first to Brighton, where the author Henry James travelled over from Rye to see it, he wrote glowingly about the power of the play in performance and he became one of the biggest admirers of the playwright, the Norwegian Henrik Ibsen. But such supporters then were few. In England, as all over Europe, Hedda Gabler usually scandalised the audience – 'a bad escape of immoral sewage gas', one newspaper called it, 'crawling with the foulest passions'!
[web ed: research reveals that the review was in Pictorial World: "Hideous nightmare of pessimism … The play is simply a bad escape of moral sewage-gas … Hedda's soul is a-crawl with the foulest passions of humanity"]
Like Ibsen's earlier masterpieces Ghosts and A Doll's House, Hedda Gabler broke all the conventions of the time – by showing characters with life-like personalities and feelings, all struggling with situations uncomfortably real. In Hedda Gabler Ibsen took two further risks. First, he did away with long flowing speeches, in which the characters explain exactly what they are thinking and he created instead, short realistic dialogue, in which the audience has to 'read between the lines' to understand the characters. Audiences in the 1890's found this new approach very unsettling but the style has influenced good modern theatre ever since – in fact, we now almost come to expect it. Secondly, Ibsen created in the central figure of Hedda a character so wayward and complex that, in the past, audiences were just plain horrified at the way she behaved. A century on, however, the world has caught up with Ibsen. Now we are much closer to understanding the turmoil of the young woman's mind as she struggles with a life in which she feels increasingly trapped.
In presenting this production of Hedda Gabler, Wick Theatre Company believe that we have, as nearly as possible in Bob Ryder's completely new adaptation, a text which is as fresh to a modern audience as it must have been to Ibsen's public a hundred years ago. There have been many translations of Ibsen this century, but only rarely has anyone managed to capture the natural tone of his dialogue, the differences in the way that each character speaks, and the rhythm and vigour of the original Norwegian language. Wick are therefore very pleased to be presenting the premiere of this new English version of Hedda Gabler, which so successfully does all of these things.
The Wick Theatre Company is keen to build up and widen its appeal to audiences. We would be very interested to know your views about tonight's production – and whether, for example, you would like to see more classic drama at the Barn, or indeed any other type of production.
We are also pleased to welcome new members. As well as acting opportunities with the Wick there are plenty of technical and support activities involved in our productions, and we have a very full calendar of social events. We can also offer some popular 'workshop' events for members of all ages, backgrounds and abilities to learn more about stage techniques. For more details, please see overleaf."
---