The Barn Theatre, Southwick Community Centre.
December 12, 13, 14 & 15, 1990.
---
Little Women
by Peter Clapham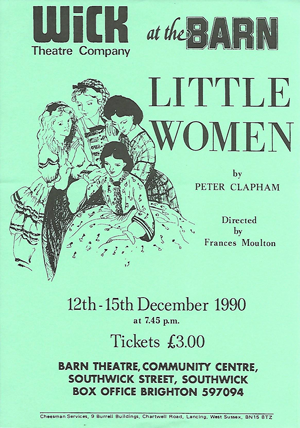 Directed by
Frances Moulton
Cast
Natalie Colgate – Amy March
Sally Bailey – Beth March
Jenny Brown – Jo March
Jane Porter – Meg March
Daphne Thornton – Hannah
Joan Bearman – Mrs. March [Marmee]
Betty Dawes – Aunt March
Martin Parsons – Laurie
Michael Block – John Brooke
Ralph Dawes – Mr. Lawrence
Dave Collis – Mr. March
Production Crew
Assistant to Director – Sue Whittaker
Set Design – Dave Comber
Stage Manager – Mark Flower
Sound Effects – Ruth Simmonds
Costumes – Margaret Faggetter
Properties – Margaret Davy
Lighting – Frances Thorne
Publicity – Andrew Cregeen
Publicity – Ann Donkin
Publicity – Jean Porter
Box Office – Jill Redman
Photography – George Laye
Programme Note #1: Little Women
FM wrote: "Little Women by Louisa Alcott must surely be one of the best loved of all books.
If the March family seem, to modern eyes, too good to be true at times, is it not nice to see young people with a greater care for others than themselves.
I have greatly enjoyed directing this lovely play, especially in having four such talented teenagers in the parts of Jo, Amy, Beth and Laurie – today's young people portraying those of a bygone era. Let us hope we may see more of them in future productions."
---