The Barn Theatre, Southwick Community Centre.
September 26, 27, 28 & 29, 1990.
---
An Inspector Calls
by J. B. Priestley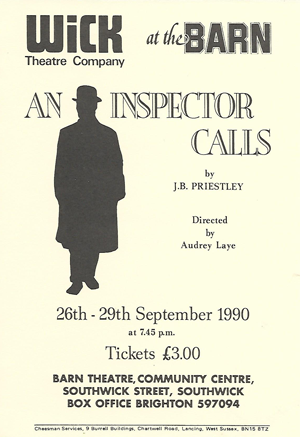 Directed by
Audrey Laye
Cast
Ron Cheesman – Arthur Birling
Bob Ryder – Gerald Croft
Judith Berrill – Sheila Birling
Jean Porter – Sybil Birling
Dorothy Edney – Edna
Bob Cree – Eric Birling
Vic Gough – Inspector Goole
Production Crew
Technical Director – George Laye
Stage Manager – Dave Collis
Continuity – Daphne Thornton
Properties – Margaret Davy
Properties – Sue Whittaker
Lighting – Frances Thorne
Lighting – James Boath
Set Design – George Laye
Wardrobe Mistress – Claire Wiggins
Portrait Painter – Judith Berrill
Front of House Manager – Margaret Murrell
Box Office – Jill Redman
Publicity – Andrew Cregeen
Publicity – Ann Donkin
Publicity – Jean Porter
Photography – George Laye
Programme Note #1: An Inspector Calls
AL wrote: "I am once again privileged to direct a Priestley play for WICK . An Inspector Calls is very different from When We Are Married, my last Priestley play, but I consider it another masterpiece.
The importance of community, common interests and common responsibility has been the theme of much of Priestley's work. The Birling family is typical of its time and environment, but what of the Inspector? Is he really a Police Inspector? Is he a practical joker or is he a being from a mysterious source, possibly the voice of conscience in us all? We leave you to decide as the play unfolds.
Whatever your conclusion we hope you will have an entertaining and thought provoking evening."
---