The Barn Theatre, Southwick Community Centre.
June 28, 29, 30 & July 1, 1989.
---
Lloyd George Knew My Father
by William Douglas Home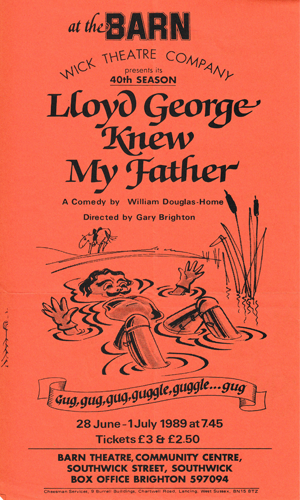 Directed by
Gary Brighton
Cast
Jean Porter – Lady Sheila Boothroyd
David Knox – General Sir William Boothroyd
Vic Gough – Hubert Boothroyd MP
Rosemary Mose – Maud Boothroyd
Lynsey Collis – Sally Boothroyd
Philip O'Brien – Simon Green
George Illman – Reverend Trevor Simmonds
Ron Cheesman – Robertson
Production Crew
Director Assistant – Jill Redman
Stage Manager – Dave Comber
Lighting & Sound – Jamie Boath
Lighting & Sound – Frances Thorne
Set Design – Jill Hutchinson
Set Construction – Ralph Dawes
Set Construction – Dave Collis
Set Construction – Dave Comber
Set Construction – Brian Box
Set Construction – Mike Davy
Pianist – Daphne Thornton
Bugle – Andy Buck
Props – Sue Whittaker
Props – Joan Bearman
Wardrobe Supervisor – Pat Moss
Continuity – Daniella Gibbs
Font of House Manager – Margaret Murrell
Foyer Flowers – Rosemary Biggs
Box Office – Jill Redman
Programme Note #1: Lloyd George Knew My Father
GB wrote: "Apart from the thriller Nightwatch, humour has been the key of our 40th season. The Liver Birds with its Liverpudlian humour gained Trudy Nash best actress award in the three-act play entries. Northern humour was the key to When We Are Married and in a our final play of the season we present humour from the pen of William Douglas-Home who has written such outstanding successes as The Chiltern Hundreds and The Reluctant Debutante amongst many others.
When Lady Sheila Boothroyd hears that the Planning Authorities are determined to keep to their decision to drive a road through the grounds of Boothroyd Hall – incidentally given in perpetuity by James 1st and where dear old Charles 1st stayed the night before the Battle of Edgehill – her patience is exhausted and she decides on extreme measures much to the dismay of the rest of the family.
The result I leave for you to follow – perhaps at times even vocally!"
---