The Barn Theatre, Southwick Community Centre.
October 14, 15, 16 & 17, 1987.
---
Key for Two
by John Chapman  &  Dave Freeman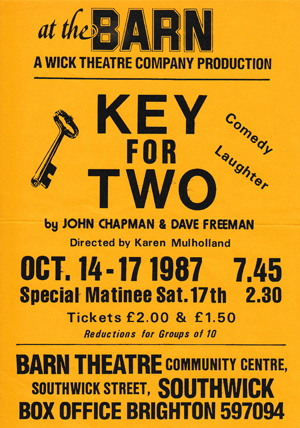 Directed by
Karen Mulholland
Cast
Neil Shepherd – Gordon
Pat Moss – Harriet
Ralph Dawes – Alec
Margaret Faggetter – Anne
Harry Atkinson – Richard
Joan Bearman – Magda
Rosemary Biggs – Mildred
Production Crew
Stage Manager – Mark Flower
Assistant – Jamie Boath
Assistant – Sue Whittaker
Assistant – Margaret Davy
Lighting – Barrie Bowen
Set Design & Construction – Ralph Dawes
Continuity – Betty Dawes
Programme Note #1: Key for Two
KH wrote: "Harriet a divorcée, living in an elegant flat in Brighton, solves her financial problems by entertaining two married gentlemen callers on different days of the week. The scheme faces collapse when her friend Anne, whose marriage is tottering, arrives at the flat, hotly pursued by her husband. One of Harriet's lovers is confined to Harriet's bed with a sprained ankle and the second lover turns up unexpectedly closely followed by two irate wives in search of itinerant husbands.
Phew!!!"
---