The Barn Theatre, Southwick Community Centre.
March 26, 27, 28, 29 & 30, 1985.
---
Anastasia
by Marcella Maurette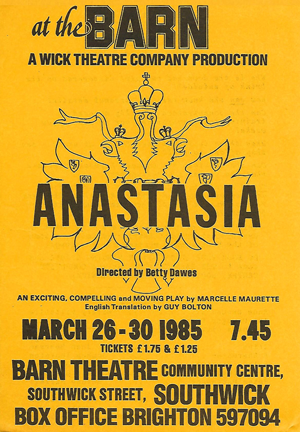 Directed by
Betty Dawes
Cast
Ronald Cheesman – Boris Chernov, an ex-banker
Antony Muzzall – Piotr Petrovsky, an artist
Brian Moulton – Counsellor Drivinitz
Joan Bearman – Irina, the housekeeper
Neil Shepherd – Prince Bounine
Hilary Wiltshire – Anna Broun
Daphne Thornton – A Charwoman
Alan Upton – A Sleigh Driver
Keith Denyer – Dr. Michail Syrensky
Jean Porter – The Dowager Empress of Russia
Margaret Ockenden – Baroness Livenbaum, her lady-in-waiting
Joy Talmage – Baroness Livenbaum, her lady-in-waiting [Thursday only]
David Creedon – Prince Paul
Production Crew
Producer – Betty Dawes
Designer – Ralph Dawes
Lighting Design – Frank Hurrell
Scenery Painting – Jill Hutchinson
Stage Manager – Frances Thorne
Stage Manager – Brian Box [Friday and Saturday]
A.S.M. – Margaret Davy
A.S.M. – Susan Whittaker
A.S.M. – Daphne Thornton
A.S.M. – Sheila Wright
A.S.M. – David Comber
A.S.M. – Brian Box
A.S.M. – Mark Flower
Continuity – Daphne Thornton
Set Construction – Brian Box
Set Construction – David Comber
Set Construction – Michael Davy
Set Construction – Ralph Dawes
Set Construction – Mark Flower
Set Construction – Gillian Robertson
Stage Crew – Dave Collis
Stage Crew – Dave Comber
Stage Crew – Andrew Cook
Stage Crew – Nick Cook
Effects – Ian Naylor
Lighting Box Team – Jonathon Dawes
Lighting Box Team – Barrie Bowen
Lighting Box Team – Patrick Roberts
Figure of Byzantine Princess Designer & Painter – Marek Balinski
Emerald Necklace Designed & Made – Amanda Dawes
Icon & Russian Eagle Painter – Sandra Peaty
Throne Designed & Constructed – Ralph Dawes
F. O. H. Manager – Mark Flower
Box Office – Jill Redman
Foyer Decoration – Rosemary Biggs
Programme Note #1: Anastasia
Betty Dawes is a Founder Member of Wick and has been President for about ten years. Her achievements in Theatre have been numerous – from the infamous Emma Hornett in Sailor Beware to a fruity Widow Corney in Oliver. Betty is a keen member of The West Sussex County Players and also attends Lodge Hill Drama Weekends regularly to keep up to date with new ideas. Her wide experience in acting has led her increasingly towards directing for Wick [remember The Gingerbread Man?] and numerous Operas for Southwick Opera, including Il Trovatore. She also enjoys singing in the Chorus. After Anastasia, she directs Godspell at St,. Michael's Church in July.
Jean Porter trained for the Theatre in Lincolnshire under Drury Lane Professional. Drama has been her main interest after her family and she gained an Honours Diploma on moving to Sussex and taught Speech and Drama. Jean has had considerable success as a Director of plays, such as My Fair Lady, but prefers to act, nominating Amanda in Private Lives and Mrs. Erlynne in Lady Windermere's Fan among her favourite rôles. Last year Jean played the Aunt in Ring Round the Moon and says she must get out of the habit of playing old ladies! However, she loves to research any part she plays – the Romanovs providing a temptation she could not resist.
Hilary Wiltshire was the girl who put the 'Kibosh on the Kaiser' in Wick's production of Oh! What a Lovely War in 1970. Since then she has played many memorable rôles for us such as Desdemona in Othello and Alais in The Lion in Winter. The Theatre has always been her great love and she is a dedicated perfectionist in all she does. She had a rest from the stage in the late '70's to have her three children and returned in 1983 to play Molly in Tom Jones. Hilary has also acted for Centre Stage, Lewes Little Theatre and Brighton Little Theatre.
Neil Shephard's first appearance for Wick was in Boeing-Boeing in 1969, after which he acted with distinction in about fifteen plays culminating in a towering performance as Iago in Othello. He then went to Algeria to teach for three years, Neil approaches his rôles very professionally and since returning has appeared in many productions including Rebecca and Blithe Spirit. In 1983 he received the Best Actor Award in the Southwick Festival. For his venture into direction, he chose Anouih's Ring Round The Moon, which was runner-up in the 1984 Brighton Festival and won the award for the best setting. Neil has also acted for the New Venture Club and Gemini Players.
---