The Barn Theatre, Southwick Community Centre
December 4, 5, 6, 7 & 8, 1984
Ring Round the Moon
by Jean Anouilh
Directed by
Neil Shepherd
---
1984 BHAC Full Length Drama Competition
– The Arthur Churchill Award for Excellence
– Best Set
---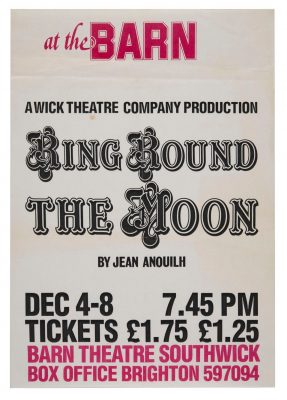 Cast
Ralph Dawes – Joshua [a crumbling butler]
Peter Joyce – Hugo [a young man-about-town]
Peter Joyce – Frederick [his twin brother, in love with ..]
Sarah Goldstein – Diana Messerschmann [engaged to Frederick, secretly in love with Hugo]
Pat Moss – Lady India [Messerschmann's mistress secretly in love with ..]
Derek Fines – Patrice Bombelles [Messerschmann's secretive secretary]
Jean Porter – Madame Desmortes [aunt to Hugo, Frederick and Lady India]
Joan Bearman – Capulet [her faded companion]
Frank Semus – Messerschmann [Diana' father, a melancholy millionaire]
Alan Upton – Romainville [Lepidopterist, Patron of…]
Louise Krige – Isabelle [a ballet dancer]
Frances Moulton – Her Mother [a teacher of the piano forte]
Brian Moulton – A General
Production Crew
Designer – Vincent Joyce
Stage Manager – Frances Thorne
A.S.M. – Margaret Davy
A.S.M. – Susan Whittaker
A.S.M. – Mark Flower
A.S.M. – Martin Cramp
Lighting & Sound Design – Barrie Bowen
Costume Design – Pat Moss
Costume Design – Frances Moulton
Choreography – Dinkie Flowers
Set Construction – Ralph Dawes
Set Construction – Brian Box
Set Construction – Mike Davy
Set Construction – David Comber
Set Construction – Gillian Robertson
Set Construction – Ian Naylor
Set Construction – Mark Flower
Front of House – Betty Dawes
Box Office – Jill Redman
Foyer Decor – Rosemary Biggs
Foyer Photography – Charles Porter
Programme Design – Marina Merrett
Programme Note #1: Ring Round the Moon
NS wrote "Too many years have slipped by since we last staged a play by Jean Anouilh, I wonder how many of you remember the production of Becket and Waltz of the Toreadors fourteen years ago and The Lark in 1974, three wonderful examples of the diversity of his works. Anouilh will always be regarded as one of France's leading twentieth-century playwrights and Ring Round the Moon, or L'Invitation Au Chateau as it was originally called, was written in 1947.
Like other plays of his written in the same mould Ring Round the Moon is peopled with amusingly eccentric characters in a make believe world. However, lurking beneath the superficial exterior is Anouilh's somewhat pessimistic satire of wealth and class. Hugo, Madame Desmortes, Diana and Messerschmann all embody this satire in varying ways and what an excellent foil to them Anouilh has created in Isabelle one of his most attractive heroines.
Having enjoyed several years in Wick, I am delighted to be able to turn to directing a play for the first time, and my pleasure is enhanced by working with a play I have always loved and admired. The experience of several members of the cast has helped my task considerably, though we are pleased to welcome Louise and Sarah, two new young faces to the Company. I hope and trust they will all help you to forget a Winter's evening and make you glad you kindly accepted our 'Invitation Au Chateau'".