The Barn Theatre, Southwick Community Centre.
September 25, 26, 27, 28 & 29, 1984.
---
Living Together
by Alan Ayckbourn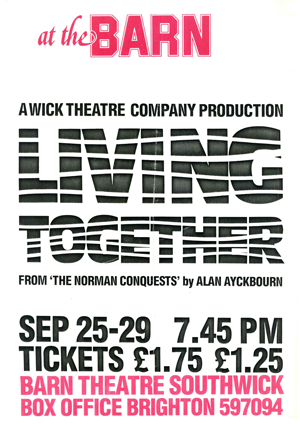 Directed by
Margaret Ockenden
Cast
Keith Denyer – Reg
Pat Moss – Sarah
Roger Job – Norman
Margaret Ockenden – Annie
Rosemary Biggs – Mrs. Henting
Barrie Bowen – Tom
Rosemary Mose – Ruth
Production Crew
Producer – Barrie Bowen
Designed – Ralph Dawes
Stage Manager – Ronald Cheesman
A.S.M. – Margaret Davy
A.S.M. – Jill Redman
A.S.M. – Sally Bacon
Lighting Design – Frank Hurrell
Lighting Design – Jonathon Dawes
Set Construction – Brian Box
Set Construction – David Comber
Set Construction – Mike Davy
Set Construction – Nicholas Fletcher
Set Construction – Mark Flower
Set Construction – Gillian Robertson
Front of House – Betty Dawes
Foyer Decor – Rosemary Biggs
Programme Note #1: Living Together
MO wrote "What makes a man successful with women? Is good looks charm or sophistication? In Norman's case – no. As he, himself says, "I'm just magnetic or something."
Alan Ayckbourn has written three plays about one particular country week-end, under the general title Norman Conquests. Each is complete in itself. One play shows what happened in the dining-room, one the events in the living-room and the third the goings-on in the garden. Living Together is the second of the trilogy. If you enjoy this play and would like to see the others, do let us know.
We had a great deal of fun working on Living Together and are happy to welcome Rosemary Mose to the company and to see Roger again, playing the part of Norman."
---