The Barn Theatre, Southwick Community Centre.
April 12, 13, 14, 15 & 16, 1983.
---
Noah
by André Obey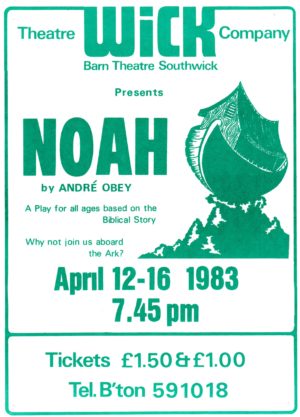 Directed by
Tony Muzzall
Cast
Humans
Brian Moulton – Noah
Jean Porter – Mrs. Noah
Charles Porter – Shem
Robert McCourty – Ham
Nicholas Davion – Japheth
Margaret Faggetter – Sella
Jill Redman – Naomi
Louise Bray-Allen – Ada
Rosemary Biggs – Woman
Animals
Mark Flower – Bear
Douglas Tucker – Lion
Joan Bearman – Wolf
Victoria Ogden – Monkey
Sarah Sherry – Lamb
Miranda Bowen – Tiger
Production Crew
Stage Manager – Sue Whittaker
A.S.M. – Daphne Thornton
Lighting – Frank Hurrell
Assistant – Edward Keith
Assistant – Eric Ridgewell
Assistant – Bob Baker
Assistant – Jonathon Dawes
Effects – Janice Barlow
Effects – Janet Langrish
Masks, Set & Programme Design – Tony Muzzall
Set Construction – Brian Box
Set Construction – Mike Davy
Set Construction – Ron Cheesman
Front of House – Frank Child
Box Office – Frances Thorne
Programme Note #1: Noah
AM wrote:
"Dear Audience, The Bible has been the inspiration of many dramatic works, but when Obey wrote Noah he only used the story as a basic plot on which to build his play around. There is far more to this Noah than just the religious aspect. Throughout the play we follow the changing attitudes of eight people and a group of animals who fined themselves forced together through a major world disaster.
It was not, of course, possible to build an Ark on the Biblical scale so, rather than try, I have chosen the simplest of settings, leaving the imagination of the audience to create their own surroundings.
Robert McCourty, Nicolas Davion, Charles Porter and Margaret Faggetter are making their debuts for the company. Jill Redman, taking her first major rôle and Louise Bray-Allen both appeared on stage earlier this season. Completing the human element of the play are Brian Moulton, Jean Porter and Rosemary Biggs, all long standing members of the company.
Lurking behind the six animal masks of our menagerie are three new faces and three familiar ones. The new faces belong to Mark Flowers, Sarah Sherry and Victoria Ogden. The three familiar ones are Miranda Bowen, Joan Bearman and Douglas Tucker.
But now let us watch as one man, an ordinary farmer named Noah, completes them new 'family home' …."
---