The Barn Theatre, Southwick Community Centre.
February 1, 2, 3, 4 & 5, 1983.
---
Pink String and Sealing Wax
by Roland Pertwee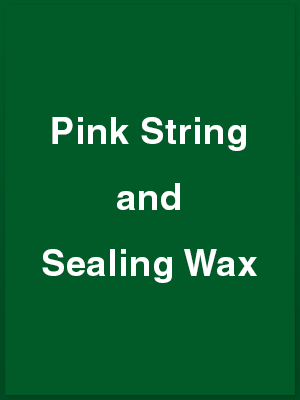 Directed by
George Porter
Cast
Andrea Smith – Eva Strachan
Margaret Ockenden – Mrs. Strachan
Nicholas Thorne – Albert Strachan
Ralph Dawes – Edward Strachan
Louise Bray-Allen – Jessie Strachan
Sarah Ockenden – Emily Strachan
Neil Shepherd – Dr O'Shea
Peter Joyce – Ernest O'Shea
Amanda Dawes – Pearl Bond
Production Crew
Stage Manager – Joan Bearman
A.S.M. – Karen Mulholland
A.S.M. – Daphne Thornton
Lighting – Frank Hurrell
Lighting – Frank Child
Lighting – David Child
Lighting – Jonathon Dawes
Effects & Continuity – Jill Redman
Wardrobe – Pat Moss
Properties – Margaret Davy
Properties – Sue Whittaker
Front of House – Ron Cheesman
Set Construction – Brian Box
Music Composition – Patrick Johnson
Recorded Voice – Darryl Brown
Foyer Decoration – Rosemary Biggs
Box Office – Frances Thorne
Programme Cover – Antony Muzzall
Programme Note #1: Pink String and Sealing Wax
GP wrote: "Dear Audience,
This play has the virtue of providing a number of interesting parts for young people and this was my main reason for staging this production. The Company wished to bring more of their young members into a major production and what better vehicle for such an enterprise than a play about a family with four teenage children. In fact five of our 'Young Wick' are appearing because Amanda Dawes plays Pearl Bond – the sort of young woman of whom mother would not have approved. The other talented newcomers are Andrea Smith, Louise Bray-Allen, Sarah Ockenden and Nicolas Thorne [who all appeared in Oliver] Good luck to them all.
As for the 'seniors'; I am delighted with them – their triumphs in earlier Wick plays are too numerous to mention. It is also notable that we have two parent daughter couples in this play and even curiouser, is that Amanda is playing the part her mother played as a teenager when Young Wick Players presented this play in 1956.
The play is, I consider, a good, if sometimes obvious slice of Victorian cake. Colour is provided by references to the old Chain Pier, the Penny-farthing bicycle and so on. But it has warmth and a sense of family – even though the Victorian attitude displayed is somewhat alien to our present day anti-chauvinist trends. Where are the heavy fathers now?
With Christmas holidays intervening we have all had too short a time to present this very busy play but hope to acquit ourselves well for your and our own pleasure."
---